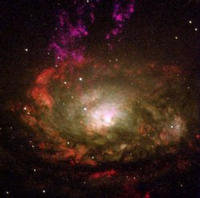 Paul Hughes does some excellent thinking about really big questions, like the possible origin of the laws of the universe.
"I have been engaging in some discussion lately about the begining of the universe, and for the first time (amazingly enough) I pushed the 'Where did it come from' question through as far as it can go. And, not surprisingly, it doesn't go anywhere. No matter how you try to explain the origin of the universe, none of the theories can account for the cause of it. What caused the big bang? Where did 'God' come from? etc.

From this, i concluded that there cannot be a begining. If there was a begining, then something must have caused that begining, and so something was there before the begining.

This doesn't answer anything, but I am yet to see another way around the causality problem (defining something as 'acausal' doesn't solve it, it just dodges it).

Now, linked to this 'where did the universe come from?' problem is, 'Where did the incredible laws, which make our universe a coherent place come from?', which is what I think underlies it all. Once the universe began, it is easy to say 'the laws guided the evolution of everything from there'....but how did the laws come to be? Why are they so perfect?"
I wish more people would be able to discuss things like that intelligently. Many will merely, if they even try, end up with some silly circular reasoning or 'just because!' kind of answer. I'm not sure I end up in the exact same place as Paul does - that there are no fundamental laws. But then again, I agree that anything is possible, so maybe we do see it the same way. Either way, this would be a great discussion to spend a few hours on.

As Paul points out, any kind of explanation that is built on ideas such as 'that is how evolution works', or 'it is all random' or 'God created it all' or 'it all follows logically from a Big Bang' - are just sort of starting in the middle and not explaning how that arrangement came about.

The best guard against closed-minded fundamentalism, of the religious or scientific kind, would be to invite more discussions like that. And to invite more of us to be comfortable with the uncertainty you run into when you probe deeply enough into how things work.
[ Knowledge | 2003-03-30 13:54 | | PermaLink ] More >