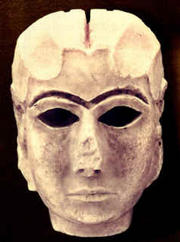 In relation to the plundering of the Baghdad Museum of Antiquities Scott Rosenberg says:
"For a war that wasn't about oil...
I imagine the planners in Washington consider the looting that has wrecked Iraqi cultural edifices, including the legendary National Museum of Antiquities in Baghdad, in the wake of the U.S. "liberation" to be so much minor "collateral damage" -- eggs that have to be broken to make the omelette, that sort of thing. "Regrettable," you know. "Can we move on to the next question?"

But I can't help thinking about this: While U.S. forces were unable to protect museums in Baghdad (or Mosul, as Salon's Phillip Robertson reported) from looting crowds destroying millennia-old artifacts, it seemed to have plenty of troops available to protect the Iraqi oil ministry in Baghdad. And of course seizing and protecting the oil fields in both southern and northern Iraq was not beyond the capacity of our forces. Priorities are priorities!"
Raven mentions some of what was lost. Scroll down. The picture is a mask of the Mesopotamian goddess Inanna. 5,500 years old and one of the earliest known examples of representational sculputure. The list is long. 10's of thousands of items. Well, some of them will come back, I'm sure, after spending years in somebody's garage. But it is a mess.
[ Culture | 2003-04-15 14:22 | | PermaLink ] More >