---
| | |
| --- | --- |
| Monday, May 5, 2003 | |
---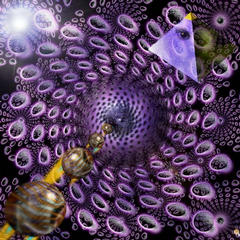 What if I'm not a bag of skin? What if I'm not a spirit stuck in the head of such a bag of skin? Nor its brain. Nor its collection of thoughts?

The explanation I'm most used to is that I'm a spirit who temporarily resides in a body, and who moves on to other lives. I didn't believe in being a brain since I was a teenager, before I started looking around and questioning things.

But I'm not sure any of those answers are good enough for me any longer. Even the explanation of being an immortal spirit who jumps around from life to life, that's a little too simplistic and limiting in some ways. Oh, I have plenty of experiences to back it up, but it is not enough.

Logically, as well as intuitively, the ultimate answer can only be that I'm everything, the metaverse, all-that-is, God, whatever you call it. Any explanation that is built on a model of your identity being inherently separate from everything else eventually falls apart. There's just no proof of it. Fundamentalist religions, including the religion of scientific materialism, would like to tell you otherwise. You're a separate and powerless little thing, subject to the whims of a vengeful god, or to the cruel randomness of a meaningless and empty universe. The simplest answer to many puzzles is the connectedness of everything. Fundamental separation requires complicated and fanciful explanations, along the lines of "turtles all the way down". No, whatever I am is some kind of wave, or particle, in the quantum sea. And ultimately, any idea of my identity being anything less than that whole sea would be just a temporary convenience.

But that doesn't help me either. Or maybe it does in a way I don't understand. But I'm looking for the stuff in-between. I'm looking for a better way of understanding what and who I am. A practical way that will be more helpful as our world is accelerating and becoming increasingly multi-dimensional.

I can talk very down-to-earth about that. Technology and societal changes force all of us to move faster and be more multi-tasking. Information overload, instant satisfaction, the global village. But I think all of that is only the surface manifestations of something much bigger. We're evolving. Not just as a cute metaphor, but for real.

Despite far out discoveries in science, quantum mechanics, string theory, 12 dimensional universes, etc, we still go around pretending that the world is the same. Even if you're a scientist, your personal instincts haven't gotten any further than the science of Newton. You instinctively understand gravity and acceleration and movement in 3 dimensions. You have absolutely no instincts about 12 dimensional multi-verses where everything is in a quantum state that depends on everything else, and time is just another fungible dimension, which can run backwards, forwards or sideways. So the easiest is just to close your eyes and pretend it is just some cute, weird theory which doesn't have any bearing on real life. No, its the other way around. The Real World probably IS that weird. And we're largely living in a fantasy world. Or, more kindly, just one particular instantiation of centillions of possibilities. Trying to believe it is the only one is the crazy part. You know, that our game here is the only interesting thing in the multi-verse, and it all rotates around our little 3rd rate planet here.

I suspect our evolution will involve an increased intuitive awareness of some of those weird quantum physics principles. Exactly what, I don't know. I'm still a confused 3 1/2 dimensional human.

Biologically each of us is obviously a "we". A sophisticated cooperative of millions of smaller beings. Each of our cells is already a cooperative of thousands of smaller life forms. So a human body is a pretty huge socialist commune. Does that mean I need to operate as if I'm the elected head of state of this whole organization? Maybe. Maybe I should let the biology run itself, as it runs pretty well without me worrying too much about it. But maybe I'm really another kind of "we". A collection of all the different roles I'm playing. Or, more drastic, maybe all versions of me in many parallel dimensions need to coordinate their actions in some fashion.

Maybe it is more simple, and the real me is just a certain .. feeling, a vibe, a certain quality of how things are done. Maybe I don't have to worry about how I get around, or how I'm packaged, how I'm identified, or whether I understand the cosmology of it all. Maybe I'm just a very unique way of doing things. Maybe I'm just a way of perceiving things. Maybe I'm just the awareness of a certain pattern of information. Maybe I will wake up 5 universes away, if the sun just strikes the trees in the exact right way on a misty spring morning. Maybe I'm already there.
[ Thoughts | 2003-05-05 17:51 | | PermaLink ] More >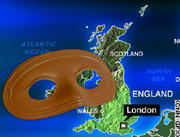 CNN:
LONDON, England (Reuters) -- A masked and caped do-gooder has been sweeping through an English town, performing good deeds and scattering terrified bad guys, a local newspaper reported on Friday.

The Kent and Sussex Courier said it had received letters from "stunned residents" of the town of Tunbridge Wells, southeast of London, who saw the man in a brown mask and cape scare off hooligans and return a woman's dropped purse.

"To my great surprise," the paper quoted 21-year-old psychology student Ellen Neville as saying, "a masked man wearing a brown cape rushed past me to assist a woman who was having a bother with a group of youths.

"He swept in, broke up the commotion and ran off, leaving myself and the woman in a state of shock," she said.

A man wrote to say he was being chased by some youths when the hero appeared and "shocked the gang so much they ran off."

Another woman wrote to say the crusader had tapped her on her shoulder to return her purse.

"If only there were more people around with this kind-hearted spirit," she said.
Yeah, I think we could all use a caped crusader on our side once in a while.
[ News | 2003-05-05 20:37 | | PermaLink ] More >


International Herald Tribune:
An experiment is under way in Paris that aims to turn the city into one huge Wi-Fi hot spot, making it what could be the first large wireless city in the world.

A dozen Wi-Fi antennas have been set up outside subway stations along a major north-south bus route, providing Internet access to anyone near them who has a laptop computer or personal desk assistant equipped to receive the signals.

The access is free until June 30 but will require paid subscriptions afterward.

If all goes as planned, the private partners building the system expect to make a decision before the end of the year to install at least two antennas, and possibly three, outside each of Paris's 372 Metro stations and to link them through an existing fiber optics network in the subway tunnels.
Wi-Fi (wireless networking for your computer) is a great thing. It has the potential for providing cheap or free wireless broadband Internet access, at least in metropolitan areas. Well, many hurdles to overcome, but it is one of the more promising technologies around.
[ Technology | 2003-05-05 21:36 | | PermaLink ] More >


Raymond Powers mentioned an article from Discover about a machine that apparently can turn a wide range of waste products into oil. Such as, for example, 600 million tons of turkey guts and other waste turning into 4 billion barrels of oil.
Pardon me, says a reporter, shivering in the frigid dawn, but that sounds too good to be true.

"Everybody says that," says Appel. He is a tall, affable entrepreneur who has assembled a team of scientists, former government leaders, and deep-pocketed investors to develop and sell what he calls the thermal depolymerization process, or TDP. The process is designed to handle almost any waste product imaginable, including turkey offal, tires, plastic bottles, harbor-dredged muck, old computers, municipal garbage, cornstalks, paper-pulp effluent, infectious medical waste, oil-refinery residues, even biological weapons such as anthrax spores. According to Appel, waste goes in one end and comes out the other as three products, all valuable and environmentally benign: high-quality oil, clean-burning gas, and purified minerals that can be used as fuels, fertilizers, or specialty chemicals for manufacturing.

Unlike other solid-to-liquid-fuel processes such as cornstarch into ethanol, this one will accept almost any carbon-based feedstock. If a 175-pound man fell into one end, he would come out the other end as 38 pounds of oil, 7 pounds of gas, and 7 pounds of minerals, as well as 123 pounds of sterilized water.
Ah, I always knew I'd be good for something.
[ Science | 2003-05-05 23:01 | | PermaLink ] More >