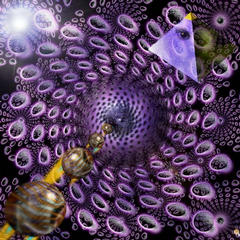 by Flemming Funch

What if I'm not a bag of skin? What if I'm not a spirit stuck in the head of such a bag of skin? Nor its brain. Nor its collection of thoughts?

The explanation I'm most used to is that I'm a spirit who temporarily resides in a body, and who moves on to other lives. I didn't believe in being a brain since I was a teenager, before I started looking around and questioning things.

But I'm not sure any of those answers are good enough for me any longer. Even the explanation of being an immortal spirit who jumps around from life to life, that's a little too simplistic and limiting in some ways. Oh, I have plenty of experiences to back it up, but it is not enough.

Logically, as well as intuitively, the ultimate answer can only be that I'm everything, the metaverse, all-that-is, God, whatever you call it. Any explanation that is built on a model of your identity being inherently separate from everything else eventually falls apart. There's just no proof of it. Fundamentalist religions, including the religion of scientific materialism, would like to tell you otherwise. You're a separate and powerless little thing, subject to the whims of a vengeful god, or to the cruel randomness of a meaningless and empty universe. The simplest answer to many puzzles is the connectedness of everything. Fundamental separation requires complicated and fanciful explanations, along the lines of "turtles all the way down". No, whatever I am is some kind of wave, or particle, in the quantum sea. And ultimately, any idea of my identity being anything less than that whole sea would be just a temporary convenience.

But that doesn't help me either. Or maybe it does in a way I don't understand. But I'm looking for the stuff in-between. I'm looking for a better way of understanding what and who I am. A practical way that will be more helpful as our world is accelerating and becoming increasingly multi-dimensional.

I can talk very down-to-earth about that. Technology and societal changes force all of us to move faster and be more multi-tasking. Information overload, instant satisfaction, the global village. But I think all of that is only the surface manifestations of something much bigger. We're evolving. Not just as a cute metaphor, but for real.

Despite far out discoveries in science, quantum mechanics, string theory, 12 dimensional universes, etc, we still go around pretending that the world is the same. Even if you're a scientist, your personal instincts haven't gotten any further than the science of Newton. You instinctively understand gravity and acceleration and movement in 3 dimensions. You have absolutely no instincts about 12 dimensional multi-verses where everything is in a quantum state that depends on everything else, and time is just another fungible dimension, which can run backwards, forwards or sideways. So the easiest is just to close your eyes and pretend it is just some cute, weird theory which doesn't have any bearing on real life. No, its the other way around. The Real World probably IS that weird. And we're largely living in a fantasy world. Or, more kindly, just one particular instantiation of centillions of possibilities. Trying to believe it is the only one is the crazy part. You know, that our game here is the only interesting thing in the multi-verse, and it all rotates around our little 3rd rate planet here.

I suspect our evolution will involve an increased intuitive awareness of some of those weird quantum physics principles. Exactly what, I don't know. I'm still a confused 3 1/2 dimensional human.

Biologically each of us is obviously a "we". A sophisticated cooperative of millions of smaller beings. Each of our cells is already a cooperative of thousands of smaller life forms. So a human body is a pretty huge socialist commune. Does that mean I need to operate as if I'm the elected head of state of this whole organization? Maybe. Maybe I should let the biology run itself, as it runs pretty well without me worrying too much about it. But maybe I'm really another kind of "we". A collection of all the different roles I'm playing. Or, more drastic, maybe all versions of me in many parallel dimensions need to coordinate their actions in some fashion.

Maybe it is more simple, and the real me is just a certain .. feeling, a vibe, a certain quality of how things are done. Maybe I don't have to worry about how I get around, or how I'm packaged, how I'm identified, or whether I understand the cosmology of it all. Maybe I'm just a very unique way of doing things. Maybe I'm just a way of perceiving things. Maybe I'm just the awareness of a certain pattern of information. Maybe I will wake up 5 universes away, if the sun just strikes the trees in the exact right way on a misty spring morning. Maybe I'm already there.