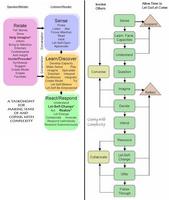 Dave Pollard talks about how we need different types to build functional communities:
If we're going to save the world and stuff, we're going to need to bring some diverse skills and capacities to bear. The two models above, which come from these posts last year, suggest what these needed skills and capacities might be.

The problem is, we tend to gravitate towards like minds, people who think like we do, have the values we have, and to some extent have developed the skills and capacities we have. That doesn't bode well for diversity.

The Jungian model of knowledge identifies four orientations for learning, understanding and seeing the world:

* sensual (through the senses),
* emotional (through the heart),
* intellectual (through the mind) and
* instinctual (through the body/genes)

None of us is purely aligned with any one of these four orientations, but most of us lean towards one or two. Hedonists lean to the sensual, artists to the sensual and emotional, philosophers to the emotional and intellectual, scientists to the sensual and intellectual, primitivists to the instinctual, naturalists to the sensual and instinctual. As a lifelong philosopher, the intellectual and the emotional orientations (in that order) remain my forté, though as I've grown older I've refocused on the sensual and the instinctual, though I remain poor at learning and seeing the world through these orientations.

We need the artists to help us imagine and perceive and create, the scientists to help us understand and realize, the naturalists and the hedonists to keep us joyful and connected, and the philosophers to help make sense of it all.
It is a puzzle. We tend to associate more with people who sort of work the same way as us than with the people who have complementary capacities to us. Like Dave, if I gathered the people I hang out with (not that I hang out very much), it would tend to be intellectual thinkers, philosophers, visionaries, maybe smart and interesting people, but also people who might be rather incapable in doing many very practical things. If I was going to be stranded on a desert island, I'd be dumb to plan to bring my kind of people. Oh, we'd need my kind of people, but we'd certainly also need very different kinds of people, more practical, more direct, with instincts for getting certain things done that are different from mine.

I find different people interesting. I love diversity. I understand that different approaches complement each other, and that's a good thing. But, yet, I don't necessarily create structures like that around me. I don't make sure that I have a community of different types of people around, who might disagree with me, but in good ways. They might see things I don't, naturally do things I'd miss.

But somehow we don't naturally create that. It might emerge because we incidentally live next to some different people, or we're born into the same family, or because we're hired to fulfill different functions in a company. But why don't we do it by ourselves?
[ Culture | 2007-01-24 19:57 | | PermaLink ] More >