---
| | |
| --- | --- |
| Saturday, February 18, 2006 | |
---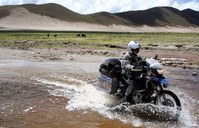 Allan Karl was on his way around the world on his motorcycle until, last month, he had a bad fall and broke his leg rather thoroughly. In Tica Tica, Bolivia, which is in the middle of nowhere, unless you live there, and probably it still is. Very poor area, very high in the mountains, hundreds of miles on muddy roads from even bad hospitals. Anyway, Allan is a blogger par excellence and has meticulously documented the whole journey. And this is no different. Even while he's bouncing around in the back of a pickup truck with a broken leg in the rain on a dirt road in the Bolivian mountains, he somehow manages to get pictures taken, and he records the events blow by blow. Which is rather fascinating to read. I've only met Allan once, at a blogger event in L.A. He's a great guy. Anyway, his accounts of the around-the-world trip is here: worldrider.com, and his normal blog is Digital Tavern. Anyway, after some grueling days he made it back to a proper hospital in Orange County, to be put back together more professionally, which seems to be progressing well.
[ Stories | 2006-02-18 15:01 | | PermaLink ] More >


---
| | |
| --- | --- |
| Tuesday, April 19, 2005 | |
---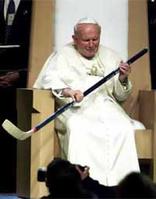 The inside scoop, in case you didn't know. From a... poem, I guess, by James Tate.
After a poodle dies
all the cardinals flock to the nearest 7-Eleven.
They drink Slurpies until one of them throws up
and then he's the new Pope.
He is then fully armed and rides through the wilderness alone,
day and night in all kinds of weather.
The new Pope chooses the name he will use as Pope,
like "Wild Bill" or "Buffalo Bill."
He wears red shoes with a cross embroidered on the front.

[ Stories | 2005-04-19 17:31 | 0 comments | PermaLink ]


---
| | |
| --- | --- |
| Thursday, April 22, 2004 | |
---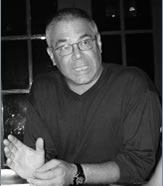 Jon Husband is spending a few weeks traveling around in Europe and meeting friends, from online or off:
He Stole My Dream ...

... he did, that wonderchicken:

"As many who read my stuff regularly know, I've been travelling around the planet for about 15 years now, and writing about it, when the mood struck me. My semi-secret dream has always always been to make a living from doing so -- travelling, writing, meeting people and drinking their odd, skull-cracking native beverages, writing about that, and moving on, weaving a bit."

I´ve been doing this, sort-of, for the last 5 weeks (two more to go) - London, the Chilterns, Paris, Amsterdam, the Dutch seaside, small-town Netherlands, Berlin, Antwerp (?), Toulouse (?).

Only problem is ... I have been to busy being 'in the present' to do much writing or blogging.

That's a big problem, if I hope to somehow make the living that allows the travel. So far, this has been made possible by the grace of my partner how many women would let their partner go off for 6 or 7 weeks, all on his own, dining with ex-girlfriends in Paris and Amstrerdam, not checking in but once a week.
I as well wouldn't mind making a living while traveling. At least I think I'd like to. Usually I find it quite exhausting to travel and take a while to recover from each time. But you see things you wouldn't have seen otherwise - different places, people, new friends.

But I haven't either found a way of making anybody actually pay me for it very often. So, if I scrape the bottom of my wallet I can go somewhere at the most once per month.

And as to the blogging, I find too that I'm usually so much in the moment that I don't get around to writing very much about what I experience when I go somewhere. I write best when I'm stationary and I have a big overview and some extra time. Sort of paradoxical.

Anyway, I hope you make it by Toulouse too, Jon, or that we somehow magically meet somewhere else.
[ Stories | 2004-04-22 15:24 | | PermaLink ] More >


---
| | |
| --- | --- |
| Thursday, January 8, 2004 | |
---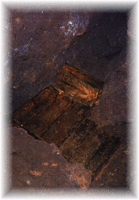 Here's an article from Manila Times last month, in part about a book about what happened to the "Yamashita Treasure", a huge amount of gold that the Japanese army had looted and hid in the Philippines during WWII in various hidden places, managed by an elusive network called "Golden Lily", initiated by Emperor Hirohito, apparently.
Some of these repositories have been found. The key figure in their discovery was Severino Garcia Diaz Santa Romana (an alias), who was on the staff of General MacArthur's chief intelligence officer, General Willoughby. Santa Romana saw a Japanese ship being unloaded and heavy boxes deposited in a tunnel whose entrance was sealed with a dynamite blast.

After the war, Santa Romana and then Captain Edward Lansdale of the OSS (the precursor of the CIA) tortured the driver of General Tomoyuki Yamashita, Japan's last commander in the Philippines, into revealing some of the Golden Lily sites.

Hand-picked troops of the US Army Corps of Engineers opened about a dozen Golden Lily sites in valleys north of Manila. They found gold ingots "higher than their heads."

Lansdale reported the find to MacArthur in Tokyo, who ordered him to brief Truman's security adviser, Clark Clifford.

According to the Seagraves, MacArthur himself and Henry Stimson flew to Manila secretly to inspect the treasure caves. They concluded that the Golden Lily sites in the Philippines contained several billion dollars' worth of gold.

In order to keep the discoveries secret, MacArthur decided to have Yamashita tried by a court-martial for war crimes and then hanged on February 23, 1946.

Lansdale was put in charge of the recovery of the Golden Lily treasures. The Seagraves aver that Santa Romana was instructed by members of Stimson's staff to deposit the gold in 176 banks in 42 countries. The deposits were in his name or in one of his many aliases. Negotiable certificates were issued by the banks against the gold deposits.

It was this money, the Seagraves alleged, that the CIA used to buy politicians in Japan, Greece, Italy, the UK and many other countries around the world. It also paid for the secret rearmament of Japan after the outbreak of the Korean War.

In 1974 Santa Romana died. He left a hand-written will that named Tarciana Rodriguez and Luz Rambano, his common-law wife, as his heirs.

With the help of Melvin Belli, a San Francisco lawyer, Rambano filed a suit against John Reed, the CEO of Citibank, for the "wrongful conversion" of some $20 billion of Santa Romana's gold. The case is still unresolved.

Tarciana is Luz's cousin, and was actually only mentioned for a small amount in Santa Romana's will. But it seems she succeeded in maneuvering things around so that it looked like she was due a lot more. And she's tried a lot of things to get hold of that, without success either.

Anyway, an intriguing and hairy story, obviously. Torturing Yamashita's driver - that wasn't very nice Santa!
[ Stories | 2004-01-08 04:00 | | PermaLink ] More >


---
| | |
| --- | --- |
| Saturday, January 3, 2004 | |
---
I just ran into this article about "Project Hammer - Covert Finance and the Parallel Economy". And, well, I'm always interested in good conspiracy stories and possible scenarios for what is going on behind the scenes. But here it sticks a little deeper, as I happen to know some of the players in the story. Project Hammer is apparently a high-yield investment program of gargantuan proportions that was run by intelligence operatives and shadey bankers. Dealing with amounts that, as it says, would challenge whatever reality you had about international banking, just by their fantastic and unbelievable amounts. Multi-trillion dollar funds.
"Research shows that gold recovered by the forerunner to the CIA--the Office of Strategic Services (OSS)--was deposited in Citibank (and many other banks, too), not in the name of the OSS or CIA but in the name of one of their operatives, Severino Garcia Santa Romana.

On his death in 1974, some--but not all--of Romana's "assets" appear to have been illegally acquired by former Philippines President Ferdinand Marcos, who was at one time Santa Romana's attorney. According to Santa Romana's widow, her husband gave Marcos a limited Power of Attorney for use solely in the Philippines, since he travelled abroad regularly. It seems that Marcos somehow made use of this to gain control over Santa Romana's gold and other assets.

It also appears likely, based on documents in this writer's possession, that considerable quantities of gold once held by Santa Romana were later placed under the control of former CIA covert operator Major-General Edward Lansdale. However, these assets were lodged with the Union Bank of Switzerland. Again, it is worthy of note that they were placed in Ed Lansdale's name, not in the name of a US Government agency. These assets are very clearly off the books.

Large quantities of gold held by Citibank remained in the account names of Severino Garcia Sta. Romana and José Antonio Diaz de la Paz (the latter being a well-known alias for Santa Romana) under reference codes "Fanerst King Fisher" and "Burgst Harbor King" respectively.3 These have been the subject of a legal wrangle between Santa Romana's heirs and Citibank's John Reed.

The fact that the gold held by Citibank and others may not have been in the name of the Central Intelligence Agency or the Federal Reserve--but, rather, was in Santa Romana's name--may have been all Citibank needed to wriggle out of a poorly crafted question."

Severino Santa Romana's widow's name is Luz Santa Romana. I've met her several times. Mindblowing of course that this frail little old philippino lady would be potentially the richest person in the world. She was the primary heir as well as the executor of the estate of Severino Santa Romano. We're talking about 1.3 trillion dollars in gold and cash in well-documented accounts. Yeah, ok, most "normal" people will instantly get overwhelmed with disbelief and will stop listening, after hearing such outrageous amounts and fantastic stories. But, well, confirmations keep appearing from many corners. And, personally, after spending time with some of the key people, my initial disbelief gradually turned into the realization that things probably were pretty much like they presented them.

Luz re-married to Jim Brown, an American businessman who had already spent years researching such matters. And together they went to work on trying to access her inheritance. And they were having loads of problems with it. One time after another it was really close, but the bank pulled out at the last moment, suddenly deciding they needed another piece of paper that wasn't available. Or an assortment of other strange things happened.

It isn't very strange of course. If we're talking about a behind the scenes operator, moving around large sums of ill-begotten wealth, which is used for dealing arms, covert operations, bailing out banks behind the scenes, etc, and some of the funds incidentally were still in his name when he died, it is not just going to be handed over to his little old widow in a plastic bag. Because the people who were using it didn't consider it his personally, whatever it said on the accounts. And the amounts are so large that they can only be moved around very carefully without crashing national economies. You can't just go and withdraw hundreds of billions of dollars and put them in a briefcase. Anyway, Jim and Luz didn't even succeed getting a few million withdrawn. Because, of course, if they succeeded at that, they could much better demand the rest. Besides, the point is that the funds mostly weren't there any more. They had been snatched up by some of the people who were used to playing with them, plus by some people who found ways of gettting their clammy hands on some of them, like Marcos.

My reasons for being interested was in part that these were otherwise normal and pleasant people, and they were having problems they needed help with. Some rather weird, interesting and unusual problems, but still. Secondarily, in case they did happen to get access to even a portion of the lost billions, I could certainly think of ways of helping them flow them in good directions. I'm not thinking of myself, but rather, you could make a hell of an influential non-profit organization with just a very small chunk of the amounts we're talking about. So, in part what I did was to invite a group of people to think together about how one might do that, and how we could present it. And a team of dedicated folks worked for several months and came up with a draft plan for the New Civilization Foundation. The general idea was to support viable distributed alternatives to the oppressive and centralized way things otherwise are done.

I handed the plan to Luz and watched her as she read it over carefully. She didn't blink over the suggested 10 billion dollar yearly budget. As a matter of fact she nodded and said she'd really like to support it, but she had to apologize that it unfortunately wasn't possible at that exact moment.

It didn't particularly get much closer. Luz passed away now a couple of years ago. Jim is her heir, so in principle it is all in his hands. But increasingly unlikely. And he's tired of trying. So, he's concentrating on his book about the whole affair. Here's the simple site I set up for him earlier. The book was initially the "insurance policy". He would publish it, with all the juicy details and names and documents, if the banks didn't cooperate. Well, they didn't and probably won't. And bringing the story to light is more where Jim is at now. The book has grown from the initial one volume to four volumes. He hopes to make the actual publishing happen shortly, and I'm working on a new version of the site for him.
[ Stories | 2004-01-03 12:10 | | PermaLink ] More >


---
| | |
| --- | --- |
| Wednesday, November 27, 2002 | |
---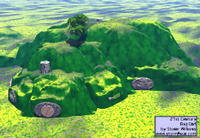 This guy is working on building his own house in a hobbit hole constructed out of concrete pipes. Well, I've always had a fantasy about having an underground house, but maybe not quite like that.
[ Stories | 2002-11-27 18:06 | | PermaLink ] More >


It doesn't have much to do with anything, but I found this story fascinating. It is about a 15 year old kid who built a functioning nuclear breeder reactor in his mother's garden shed, harvesting components from clocks and smoke alarms, and sweet talking the Nuclear Regulatory Committee into giving him advice. He did it in part to earn his boy scout merit badge in Atomic Energy. ... Of course this is all a very bad idea, but I'd give him a lot of points for guts and persistence. He might not live very long, but he did pretty much what he set out to do.
[ Stories | 2002-06-17 15:08 | | PermaLink ] More >



It might be useful to look again at some of the elements that came together to make NCN happen in the first place, almost 6 years ago. Maybe because a note was struck then that we've somehow stopped hearing, or maybe because we need to learn from past mistakes, I'm not sure. Below I include my own brief rendition of what happened, written way back then as well. In retrospect, those were very hopeful, excited times. It seemed like something big and very promising was put into motion. Note that at the time I wrote this, NCN wasn't much of a website. Just a couple of pages with people's projects on. No member area like this. The discussions were all taking place over e-mail.
[ Stories | 2002-02-13 03:59 | | PermaLink ] More >


Seems like e-mail has existed for 30 years. I was just enjoying an article at NY Times (sorry, they require a one-time registration). And, well, I haven't had e-mail for quite that long - only for around 19 years, but I still felt a certain nostalgia about it. The first time I had a computer that was *connected* was in 1982 and it was an ancient Z80 computer with 16k of memory, connected with a 75/1200 modem to the experimental Danish Teletext service. The year later I had an IBM PC, with a 300bps modem, and a subscription to The Source. Even connecting with that was rather cumbersome, and cost me around $40 per hour at the time. And at first I didn't really know anybody else who had e-mail, so I can't say I used that part much for a while. It was a couple of years after that that e-mail started replacing faxes as my way of staying in touch with friends around the world.
[ Stories | 2001-12-06 16:43 | | PermaLink ] More >