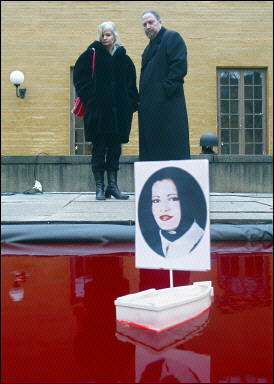 by Flemming Funch

Why would an educated person, a lawyer, and a mother of two choose to strap explosives to her body and go and blow up herself and a lot of random innocent people?

Hanadi Jaradat did just that in October, killing 21 Israelis in Haifa.

Artists Gunilla Skoeld Feiler from Sweden and Israeli born Dror Feiler created an artwork titled "Snow White and the Madness of Truth" for an exhibition in Stockholm, to make people ponder the incomprehensibility of this. On a pool of blood a little sailboat is floating, with a picture of a smiling Hanadi Jaradat as its sail. "When I saw her picture in the paper, I thought she looked like Snow White, that's why I gave that name to the piece" said Gunilla Feiler.

The Israeli ambassador didn't ponder the incomprehensibility of the scenario. He went amock and destroyed the piece the moment he saw it, and subsequently got kicked out of the museum. I suppose that illustrates well another angle of the problem. And it instantly made the art piece much more famous than it could have been otherwise. Anyway, he should probably find himself another line of work.