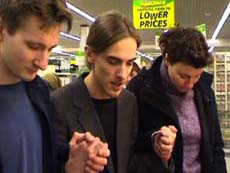 by Flemming Funch

An assortment of troublemakers have fun throwing wrenches into the wheels of commerce. To make a point, I guess, about commercialism and consumerism and big corporations. Like there's gatt.org, a parody of a World Trade Organization website, so well done that they've accidentally been invited to speak at WTO conferences, which they exploited to the hilt with outrageous performances. Here are some other exploits:
A group calling itself Whirl-Mart infests the halls of commerce with site-appropriate dance: The ritual consists of interested humans arriving at a predetermined Wal-Mart at 12 noon on the first Sunday of every month and proceeding to push empty shopping carts slowly and silently through the aisles. Eventually, all of the participants locate one another and form a single-file chain of anti-shoppers which weaves, wanders, and whirls throughout the different departments of the store for about an hour. Overall, it is a soothing and fun experience for the actors, and perhaps a memorable spectacle for shoppers. It is a collective reclamation of space that is otherwise only used for buying and selling. It is a symbolic display of the will to resist the capitalist ideology. And, it is a living, breathing, moving, evolving sculpture.

A parody group calling itself the Organization of Corporations Against Coöperation staged a protest against small business and in favor of giant corporations. They picketed a small bookshop with signs saying things like "Size Does Matter" and urged passers-by to patronize instead huge chain bookstores. The same group later managed to get a branch of one such giant bookstore chain to close for one day - they masqueraded as a pro-corporate taskforce who was monitoring local anti-corporate activity and said that a planned protest might get out-of-hand, recommending that the bookstore close up shop for the day of the protest.
Or, how about the guys who create prayer services where they gather in supermarkets to worship the wonderful products that we're presented with. "Praise the fresh chickens and their fleshy whiteness!". Yeah, halleluja.