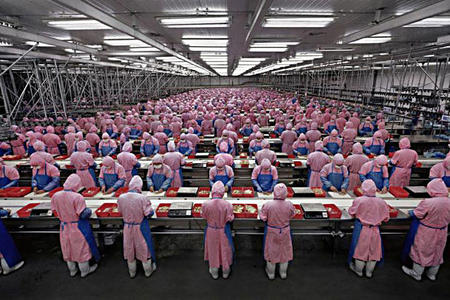 by Flemming Funch

[This was one of my answers on Quora a while back.]

The idea that there's a paying job waiting for everybody is going away.

It was a somewhat odd idea in the first place. Before jobs were invented, people mostly worked to house and feed their family. Quite strikingly, they did this by actually building the house and by actually growing the food. Nowadays, that's close to being illegal, as you most likely would violate building codes and zoning laws if you tried to do that in a western country. What happened in the meantime was that a very complicated system was invented, where one would go out and work for other people, then buy what one needs from others, before one can go back home and enjoy it.

One of the problems with the scheme is that there's no very good regulating mechanism for jobs. There's one for money, albeit a flawed one. If there is not enough money to pay for stuff, central banks have the job of putting more money into circulation. If there's too much money out there, it is their job to get rid of it, thus keeping the money supply fairly stable, corresponding roughly to what is there to pay for. Again, there are many problems with this, but at least there's a system to keep it stable.

There's no system that automatically creates more jobs when there are some people who need them, or that retires some jobs if there's nobody to fill them. Governments try to do it, but unless they're centralized socialist governments, they don't have direct ways of doing it. A direct way would be to hire more people if there are people without jobs. What they do is indirect stuff, in the form of "stimulating" the economy in various ways. Sometimes they do this in ideological ways that might not even work, or that might do the opposite. For example, there's the supply-side philosophy that is popular with neo-conservatives in the United States. The idea is that if you give more money to rich people, they're smart enough to do things with it that creates more business, and thus more jobs. Then again, they might just invest it in some other ways, or buy gold-plated swimming pools for it. Or they might buy robotic factories, not creating very many jobs. Supply-side is seen in contrast to demand-side economics, which would stimulate the economy by giving regular people more money, inspiring them to go and spend it, thus getting the wheels turning. There's no guarantee that this creates more jobs either, as the stuff people are buying might still be produced in robotic factories and in another country.

More things are being produced with less and less effort. Production is becoming automated. Fewer and fewer people can create more and more. This increased efficiency could potentially do many good things, but what it certainly doesn't do is produce more jobs. It naturally produces fewer jobs. And the benefits of the increased efficiency are largely kept by the owners of the production machinery. Yes, people get cheaper stuff too, but they don't get the jobs that would pay them so they can afford to buy it.

This system is going to break sooner or later, but that's a different discussion.

In the meantime, jobs are being replaced, increasingly, with being in business by yourself. You'll have noticed, even if you have a job, that you've had to compete to get it, to market yourself, to track down prospective employers, package yourself right, etc. There are rather few jobs just standing around waiting for you. Jobs aren't secure either, even if you have them. It is extremely unlikely to last your whole life, so you'll have to do it over and over. So, more people are going on to the next step, of being freelance and learning how to actually market their services, find customers, etc. Since you're becoming freelance anyway, you're also more likely to choose a line of activity that actually interests you, more than a regular job would.

Another intriguing trend is likely to close the loop and take us back to a more sustainable and local way of living. As technology advances, it becomes possible to manufacture more stuff by yourself. Think about 3D printers and open source hardware and software. As the global economic system is becoming more uncertain and unstable, we perceive more of a need for taking care of our needs locally. The right combination of technologies will increasingly make it possible.

So, one way or another, we're actually quite likely to get back where we started, but at a much higher level. I.e. that you work on what you actually need and what you feel like working on. You will need to network economically with other people, but no job needs to be involved.

It would be a good idea to start right now to get used to the idea. Drop the job thinking. Think about having skills that will be needed and useful, whether there's a job for it or not. Think about understanding who needs your services and how you can reach them. Think about organizing your life so that you might still eat and have a place to live, even if business is slow.