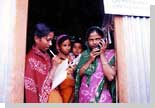 by Flemming Funch

From Smart Mobs: BBC reports on the way microloans for running mobile phone services have changed the lives of low-income women in Bangladesh. Another sign that the mobile telephone is reaching people who have never participated in the PC or Internet revolutions. Watch for huge changes as even the least expensive mobile phones morph into miniature Internet terminals with significant onboard computing power.
Hidden at the back of a pharmacy in rural Bangladesh, its rickety shelves piled high with medicines and condoms, is a thriving mobile phone business. The only sign of any kind of technology is a 20-metre bamboo pole, topped with what looks like a television aerial.

But this is the workplace of Jamirun Nesa, one of 50,000 Bangladeshi women making a living as Grameen phone ladies, as they are known.

Villagers flock to her phone booth in the region of Gazipur, two hours from the capital Dhaka, to use a mobile to call relatives, friends or business associates, paying for calls by the minute.

Life-changing

Grameen phone ladies provide villagers with a vital link to services such as hospitals and to relatives both at home and abroad, in a country with the lowest number of phones in South Asia.

The scheme was set up by one of Bangladesh's largest non-government organisations, the Grameen Bank. It offers women low-cost loans to set up a mobile phone exchange in villages where there are few if any landlines.

"I started the business as there was no other phone nearby," said Jamirun. "I saw it as a good business opportunity."

The mobile has literally changed her life.

"I get more respect now," she says. "Before people in the village wouldn't talk to me but they do now. "I also have more respect from my husband and family."