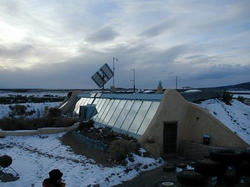 by Flemming Funch

Mark Woods mentions an article about Earth Ships, which says, for example:
"Inside, the sunlight was terrific, the entire space fairly cozy, but very hobbit-like. And with, let's be clear, fairly low resale value to anyone except a total granola-crunching lunatic like yourself, unless there's a nuclear war and living off the grid becomes handy, at which point you won't want to move anyway, but will want to insert steel bars over all the windows to avoid mutant tribes of 16-eyed irradiated flesh-eating Objectivists."
Earthships are houses built of old tires and dirt, and maybe old cans and bottles. Not as crazy as it sounds. It is a way of recycling materials in a sensible way, to build a sustainable, durable, well-insulated house. You can build it yourself.