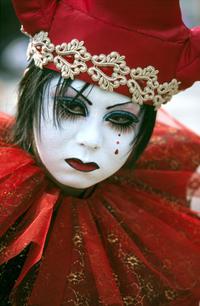 by Flemming Funch

I think Japanese youth culture and dress-up styles are fascinating. This is a picture of a girl in the Harajuku district of Tokyo, from here. As a tourist guide says:
"For youth culture Japan - "cool" and "cute"- Harajuku, just north of Shibuya, is the number one fashionable, fun, faddish, ridiculous, crazy "crib" to "chill out". Come along on a Sunday and you'll see it all!"
And here's from a Japanese teen writing a paper on pop-culture:
"Harajuku is weird central," says a Japanese friend of mine. Youth in Harajuku exhibit anime-style, gravity defying, Technicolor hair and wear elaborate makeup and costume-like clothing. Japanese visual rock bands are probably the greatest influence on this urban sub-cultural style. In these bands, the visual image projected by their clothes style and makeup is as important as the music they produce. Band members create onstage personas that extend far offstage. I present Japanese visual bands as an extreme of using fashion to "fabricate" an identity.

So how do these bands identify themselves? I would argue that the extremist style was developed to distinguish themselves from the mainstream music industry, largely occupied by corporate factory line, "idol school," produced singers. There is definitely shock value is this style of dress. The first thing you probably notice when looking at the photo of the band Glay, are the bands members' Technicolor, gravity-defying hairstyles. Dying hair is an obvious rejection of the Asian confine of basic black. It is symbolic of breaking out of the mold of appearing "Oriental". But more so, I think, the eye-catching hairstyles allude to anime and manga, where hair color and style often becomes a distinguishing feature of the characters."