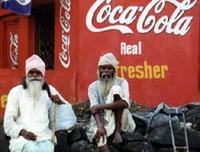 by Flemming Funch

Via Sounding Circle, a story about Coca Cola using up valuable groundwater in various parts of India, and leaving a mess.
Another dark spot is Mehdiganj (UP), where Coke built a bottling plant in 1995. Two tube wells draw hundreds of thousands of liters of ground water each day. Geologists have estimated that the company's voracious consumption may have lowered the groundwater level as much as 40 feet. The area's water crisis was further aggravated by the World Bank-funded Golden Quadrangle superhighway project, which shut off the water pipeline from a neighboring area. The Coke plant's proximity to the holy city of Benares has created further controversy. The factory's waste product was being disposed in a nearby canal that emptied into the holy Ganges River.

Local Indians were enraged when they discovered that polluted waste was being dumped into the Ganges. Until recently, there was no clear way to test for Coke-related pollution in the vast Ganges. But in order to make way for the superhighway, construction workers dislodged Coke's waste disposal canal. The company then began disposing its waste products into neighboring fields and mango groves. At this point, the level of toxic waste became readily obvious to local residents.
Coca Cola is denying everything and claiming it is the "target of a handful of extremist protesters". More on the shadey world of Coca Cola business here