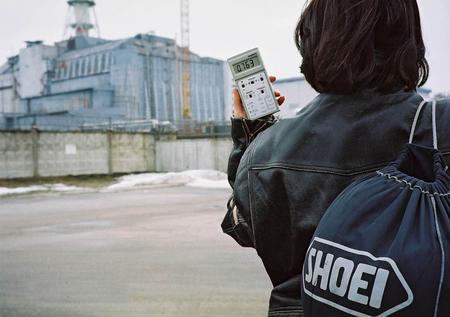 by Flemming Funch

It has been posted widely, but it is a good story, so let me mention it too. This lady lives in the Ukraine and rides a big Kawasaki. One of her favorite excursion targets is the "dead zone" around the site of the Chernobyl nuclear disaster. Nobody lives there, and there's nobody around for miles and miles and miles. It is a ghost town that looks exactly like it did 20 years ago, a frozen snapshot of Soviet era life, just without the people.

The trick is that on the asphalt in the middle of the road, the radiation level isn't bad. Go to the side of the road and it doubles. One meter away from the road and it is 4-5 times higher. So, if you stay moving on your bike, and you go alone, without anybody else to turn up dust, and you bring your geiger counter, you're probably alright.

Not that it is anything to take lightly. The whole area will not be fit for human habitation for another 600 years or so, and it will have heightened radiation for around 48,000 years.

And don't forget, many people died from the radiation released here. There are no good official numbers, but it might well have added up to several hundred thousands.