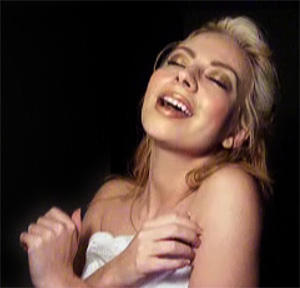 by Flemming Funch

Is grassroots video production and sharing mechanisms like YouTube going to change the world of media? Maybe. Probably nobody's going to produce Star Wars in their garage in the near future, although there are fun take-offs. One might do mash-ups. And people might do other things that are more authentic and personal, which might be as interesting as watching TV.

Meet YouTube user MaryAnne aka Ysabella Brave. She discovered that singing was fun, so she started doing little videos of her singing classic songs, using a dinky camera and a desk lamp and no editing software. And they turned out to be popular and she developed a following. Which I can understand. She's really cute, obviously has fun with her videos, and one can't help falling in love with her. And she can sing. Oh, she doesn't hit all the notes all the time, but she puts on a great show. She has 12,000 subscribers. And now she does these little videos where she answers questions from fans and that kind of thing. And she really does seem to be an unusually sweet person.

This is a kind of reality television. There's something to say for real people. But mainstream reality TV has gotten awfully scripted, so maybe real, real people would be more interesting. Oh, I suppose not everybody is interesting. But if you have a talent or a unique angle on things, there are certainly ways you can have an audience now.