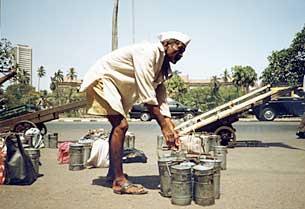 by Flemming Funch

Culiblog, Metafilter. In India there's a system where homecooked meals get delivered to your office every day. Apparently that works well.
In Mumbai (pop +16 million) there are reported to be more than 5,000 Dabba Wallahs. A "Dabba" is a 'tiffin' or 'lunch box', a 'Wallah' is a man or the carrier. The Dabba Wallahs deliver home cooked meals, picked up piping hot each morning from suburban households, and distribute them to more than 170,000 office workers spread across the entire city. This system relies on multiple relays of Dabba Wallahs, and a single tiffin box may change hands up to three times during its journey from home to office.

No matter that few Dabba Wallahs can read or write, they interpret a series of colour coded dots, dashes and crosses on the lids of the lunch containers, indicating the area, street, building and floor of the Dabba's final destination. The Dabba Wallah margin of error has been calculated at an one mistake in eight million deliveries, an accuracy that has earned the Dabba Wallah system a Sigma 6 rating by Forbes magazine. 'Sigma' is a term used in quality assurance if the percentage of correctness is 99.9999999 or more. Here comes the math: for every six million tiffins delivered, only one fails to arrive. This error rate means that a Mumbai tiffin goes astray only once every two months.
Of course, that rate of success sounds greatly exaggerated, and I doubt it can be true, even if it maybe is a very efficient system. But Six Sigma is kind of an interesting concept. Actually that just requires 99.9997% accuracy, which would be 3.4 errors in one million, not 99.9999999%, which would be just one error in one billion, which sounds pretty unfeasible. 99.9997% sounds pretty crazy as well, if humans are involved. I suppose an automated banking system ought to certainly have that kind of error rate or better.