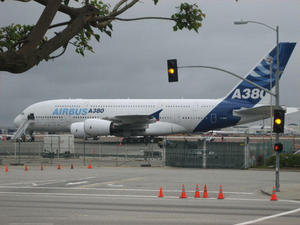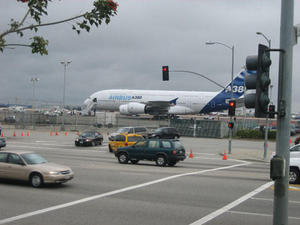 by Flemming Funch

A guy named Bob has a couple of pictures from when the A380 came to Los Angeles recently. And he gave this nice overview:
The Airbus A380, the largest passenger plane in history, landed at LAX (Los Angeles airport) on March 19 2007. This eight-story-tall (80 feet from bottom to the top of the tail), 1.2-million-pound jet- "Airbus 380", more than 239 feet long, which can carry 555 passengers and has a 261-foot wingspan, was making its inaugural test flight from the Airbus headquarters in Toulouse, France. It carried only 22 crew members, but was full of added instrumentation for the test flight.
An identical A380 (this had about 550 passengers aboard and tested all boarding/flying procedures) landed in New York within minutes of the Los Angeles touchdown. A 380 has two decks.
End of 2007: Singapore Airlines becomes the first carrier to put the A 380 in the air with paying passengers, with about 480 ticket holders; Summer 2009: Lufthansa begin flying the plane with about 549 passengers.
The European made Airbus A 380 produces half the noise of a Boeing 747, mostly because of its state-of-the-art Rolls Royce engine. Its designed to have more than 850 seats in the future if necessary.
I see A380s almost every day. They start and land constantly, for testing, and we live next to the incoming flight path. And we know quite a few people who work on it at Airbus. But it is still something new to see it in L.A. Not that this particularly looks more like L.A. than anywhere else.

I ought to feel like Los Angeles was still my hometown too, but somehow I don't. Felt like home when we lived there, and it was even something to be a bit proud of. But every time I landed there in a plane, after having been gone a few weeks, it felt sort of strange. You land into a brown soup of city as far as the eye can see in all directions. And it never felt exactly friendly to arrive in LAX, even if it usually was warm. Long passport check lines, an endless stream of courtesy vans, taxis and police cars, and then out on the wall-to-wall freeways. But after a few days it felt normal again.