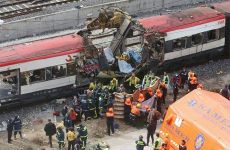 by Flemming Funch

Around 200 people dead from simultaneous terror bombings of commuter trains in Madrid.

Well, I normally am not of a mind to just mention bad news because it is "news". But I can mention a few things it brings up for me...

It is the next country over, so it doesn't have the same emotional impact for me personally as it would if it were in France, even in Paris. Or in Denmark or in Los Angeles, places that have been home for me. Somehow we will often compartmentalize things, so it somehow doesn't hit the same unless we consider it within "our" territory. Otherwise it feels like "over there", rather than "here".

It is always a tragedy when innocent people die violently and suddenly. But we have weird subjective ways of measuring it. It is the same kind of tragedy for the family and friends for every single person. But if 200 people died in a plane crash, it wouldn't register remotely the same way. Or if 50,000 people die in an earthquake in China, it is a bit unfathomable to try to relate to it, so it easily becomes just another news item. Or if 500,000 people die in Iraq from the side effects of a war carried out to protect oil interests, how do I respond to that? It is bad, but it easily just becomes an abstract number, rather than that number of personal tragedies.

But we're nevertheless surprisingly connected. So if even an apparently small number of people is involved in some dramatic event, we usually know somebody who knows somebody. In my French class this morning, several of the Spanish people present had friends or family members who were there in Madrid and who had been on the next train or the previous train and that kind of thing.

This particular event seems to have a large emotional impact on Spain and on the rest of Europe. A mini 9-11 event. Something that shouldn't be possible. Something we didn't expect where we live. Something that makes us feel more vulnerable. And maybe angry at the perpetrators, even the first possible group identified as the likely perpetrators, whether they actually did it or not. Or maybe more compassionate and solidaric with each other.

My guess would be that this is more related to an apparent al-Qaeda related group, rather than the Basque separatist group ETA.

But I also believe that when deliberate well organized, well planned, and well financed events are carried out, one needs to look carefully at who it benefits. "Follow the money" is one variation of that. Or look at who actually wants the outcome that quite naturally follows from such an event. Which often gives totally different answers than those that follow from who's officially blamed. Did it further the cause of Bin Laden and al-Qaeda and the Taliban that 9-11 happened? No, they were just about bombed into oblivion. And the United States was turned into an oppressive police state with a strengthened military and the willingness to use it anywhere, with little justification, without any need for public support. The Iraq invasion, however, was a godsend for groups like al-Qaeda, who were supplied with another lawless territory to operate out of, and a lot of motivated new recruits, and a lot of easy targets. So, if you follow my logic here, 9-11 was most likely masterminded by folks who wanted to turn the United States into a much more tightly controlled society, and who wanted greatly increased power and resources given to military activities, with greatly lessened checks and balances. You can guess who that might be, but that it would be some guy in a tent in Afghanistan would be a bit farfetched. And the unilateral Iraq invasion was masterminded by folks who wanted to support increased terrorism and lawlessness in the world. And, sure, those might very well be the exact same people, as those objectives can dovetail into each other quite well. But those actions certainly wouldn't be carried out neither by people who want to free muslim areas from outside influences, nor people who want peace and safety and freedom for the common folks anywhere. Unless the planners were extremely mis-informed, uneducated, unprepared and bad at carrying out any objective at all in any organized way. Which I'm quite sure isn't the case.

So, as to Madrid, who's cause would this support? Certainly not the ETA, as everybody hates them now, and large resources now will be applied to wiping them out. No, it would support folks who would like Europe to catch up to the U.S. in terms of population control and general paranoia.

What to do? What regular people can do is at least to use the coming elections to remove the government leaders in their countries who are furthering that agenda by their actions and propaganda. So, say goodbye to Jose Maria Aznar and George W. Bush.