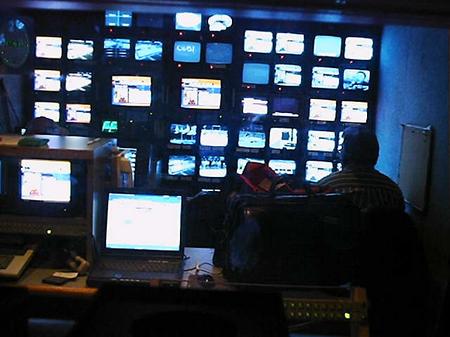 by Flemming Funch

I'm somewhat addicted to news. The trouble is just that there never is any.

Oh, I don't watch the TV news or read newspapers all that much, although I sometimes enjoy both. I mostly read online news. I check various major news sites, even though there usually isn't much new. More interesting are various major blogs and bookmark aggregation sites. I'm currently feeling a little too busy to check through all the blogs in my blog aggregator, so most days I just check a few key places. Which often have a few things of interest. Even if the same stories often appear in several places. You know, Boing Boing is great, but they obviously read Metafilter too. Or vice versa. Loads of blogs and bookmark sites end up mentioning the same stuff. Which is part of how the blogosphere works, so it is not a bad thing.

But there's not much news. Or a lot of it is old. I get various newsletters in e-mail, people who gather together the most unique or interesting stories in the news. And by the time they get around to sending it out, I've heard all of them before. And it is not that I really spend a lot of time looking everywhere. It is just that the available stories move around so fast, and get automatically filtered through the selections of many bloggers, that they're yesterday's news when somebody does their weekly newsletter.

It is also that I usually don't consider news news. Oh, I do try to pay some attention to what various governments are doing, and where there's a war, and what the latest disasters are. But it is not all that interesting. The better news is usually when somebody finds a new twist on something, or writes something inspiring, or discovers something new and creative one can do. I almost find it more fruitful to search for completely random things in Google than I do trying to read news.

Likewise, I find it more interesting when somebody else does the same, and discovers something interesting. Doesn't have to be google, any source is fine. I'd rather hear what you surprisingly found in your attic or some off the wall idea you had in the bus than to read the same recooked news of the same old things happening a little more.

We too easily end up going in circles. Probably some kind of design problem in the brain or something. The real interesting stuff is the unexpected angles. Lateral thinking. Creative lightning strikes.

New input. Where does it come from? So much is recooked that it can be hard to see where the new stuff is. Most news infrastructure is broken. Blogging is a ray of hope at least, even if a lot of it just is about quoting each other. It is at least a medium for interesting stuff to propagate, even when it doesn't just support the status quo world view of people in power. Bloggers typically prefer reporting something different. Real news does have a substrate to grow in.

But it is sort of odd. The world is moving faster and faster, and there's more and more information, and new things are being developed every day. How can there be a scarcity of things to report on? There probably isn't. But there might be some disconnects there, so it is difficult to see what is really going on, because there's too much, and lots of information travels in old ways that haven't caught up with our accelerating evolution.

What's new today? Where do I look to find out? Who do I ask? Where's the pulse?

I'm looking for signs of life.