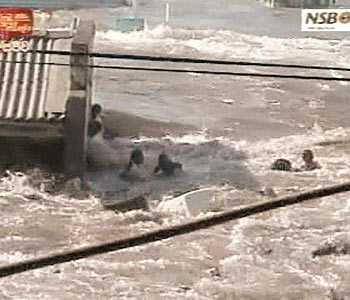 by Flemming Funch

I can't really add much to the Tsunami coverage, as it is already all over all the media. It is tragical and devasting of course. I don't know how to deal appropriately with over 100,000 dead and many more personal tragedies. Strange that I can't personally even relate to it before I read that there are still around 500 Danish people missing. That's about a 10 times bigger chunk of Denmark than 9/11 was to the U.S. And 1500 Swedish people. But the much bigger disasters were for many faraway villages that can't even be properly accounted for, and many of which no longer exist.

Otherwise the only thing I can say is that it shouldn't have happened. Well, you can't stop the biggest earthquake in memory from happening. But it took several hours for the tsunami to hit the beaches it hit. It is an example of terrible communication systems that most people had no clue. The U.S. military and the State Department knew, and secured the Diego Garcia military base. But it succeeded in alerting only two foreign governments. The top meteorologists in Thailand knew, but they decided to not tell anybody, to not disturb the tourist industry. As if an unexpected tsunami isn't a lot more disturbing. And, anyway, there wasn't much of a system in place to warn anybody in most places. The people who knew didn't quite know who to contact.

Interestingly, the animals knew, even if nobody told them in advance. There were largely no dead animals, because they can sense stuff like that coming, and instinctly get themselves to safety.