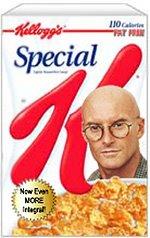 by Flemming Funch
"If you want to know God, you've got to get your brain out of the way first. It's just one big stupid filter."
Yeah, I think I'd agree with that. It is a quote from Ken Wilber. Anyway, it was an introduction to this video, or here on Youtube. Wilber demonstrates some different kinds of mediation that sort of stop his brainwaves. Of course it doesn't stop his brain activity altogether, or he'd be dead. But you know these kinds of brainwave monitors, similar to EEG machines, used for showing how much beta, alpha, theta and delta activity one has. Usually one has activity in one or several of those bands. Beta is when one is alert and working or thinking logically. Alpha is when one is in a relaxed, reflective mode. Theta is drowsy or dreaming. Delta is deep, dreamless sleep. So, what he demonstrates is that one can put oneself into a state where there isn't any activity that stands out in any of those areas at all. Which isn't in any way the same as a flatline EEG, but it is still a quite remarkable feat.

I picked this up from metafilter. Quite interesting how many negative comments a thing like that produces. Seems like a lot of people feel very threatened by the idea that one can control brain waves, and particularly by the idea that there might be something more significant, as far as consciousness is concerned, beyond the brain.