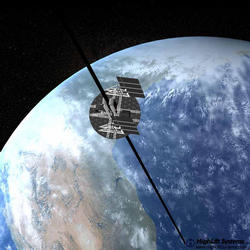 by Flemming Funch

Some news about Highlift Systems who are planning on building elevators to geostationary orbit. They may have found a second location for the anchor of their space elevator - Perth, Western Australia, which apparently has the calm waters and international airport needed. The whole project has apparently gotten more momentum after the shuttle disaster. And with a startup cost of 7-10 billion, it will need a lot more support.
It would act like the cable in the centre of a lift, with lift cars which could take people into space and back. The earth end of the ribbon would be connected to a terminal floating on the ocean about 100km off the coast which would use Perth Airport as an international contact point. Each lift car would be able to carry up to six people, with luggage and air supply. Travellers would be taken as a first step 100,000km into space to a space station. The station could be connected to more ribbons for journeys on to the moon or beyond.
It might potentially reduce launch costs from the current $10-40,000 per kilogram to $100 per kilogram.