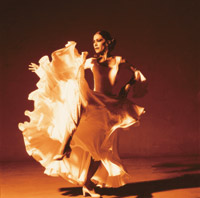 by Flemming Funch

For a while I figured I would change my business card to read something like this:



Flemming Funch
Looking for signs of life



Well, in part because I tend to put cool but puzzling titles and bylines on my business card. Puzzling because some people (practical people) have a hard time figuring out how I possibly could make any kind of a living on that. Right now my business card says "Connecting the people who change the world". I don't know if that's something I do, but it sounds like a good thing. And, yes, nobody's paying me for doing that.

So, as to the 'signs of life'. Well, most things I'm interested in concern making life more full and interesting. More life. And I'm interested in understanding better how life works. What is life? Is the universe alive? I think so, but I'd like to understand it better.

You can also say I'm looking for the signal. In most any kind of communication, the information is found in those parts that stand out from the background. If I say:
0000000000000000000000000100000000000000
then the information is found in the different part. The 1 in this case. That's the signal.

Likewise in life. If you're just doing the same thing as everybody else, you're not providing any signal. You're not showing signs of being alive. You're wasting God's time, if you want to put it that way.

I'm interested in the stuff that's different and alive with energy. The people who start a green hair culture when everybody else thinks one has to have black hair. The people who think up something entirely different that actually works. The people who feel a different beat and who actually dance to it. I'm interested in patterns that hadn't been noticed before. And the meeting of different patterns. Life is diverse.

There's something free about life, so I'm looking for freedom. People who manage to tap into something fundamental, but yet express it in ways that aren't restrained by old patterns of thinking or unnecessary norms for behavior. Changing the rules. Exploring your range of motion.

And then I'm interested in how it all fits together. Ecosystems are diverse and synergetic. Diversity is life. Monoculture is death. But it is not that simple. It is not enough to just make things different. It is not enough to just break the rules. The magic is in the synergy. How different things work together, and support each other, in sometimes surprising ways. Finding patterns that make diversity work. Self-regenerating systems that thrive on diversified experimentation. Autopoiesis. Self-creation. Life.

I'm looking for small signs, and I'm looking for some bigger signs. Signs that humanity is alive and becoming more alive.