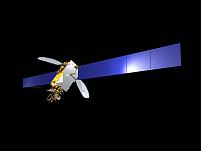 by Flemming Funch

I explored what might be available for us in terms of possibilities of catching Danish TV by satellite, and since it was a little hard to figure out, I've better record here what I found so others can find it.

There was already a little satellite parabola on the house here. So, in principle you just add a decoder. And we connected a cheap digital decoder for free channels. The antenna appeared to be pointed to the Astra satellite. Which right away provided 52 channels, of which a handful are encrypted so we can't see them, and of which one is in French, one is German news in English, and the rest are German channels. Which certainly expands the selection, but it isn't what we most would want. We could probably adjust it a bit to point to the Hot Bird satellite, which would give a somewhat different selection. Beyond that I start getting really confused about what's really available.

But what we would really most like is Danish TV. Which is a rather different story. If we had a 2M or so parabola we could receive Danish Canal Digital pay packages on the Thor II satellite. Which would be a huge antenna.

But there have on and off been other possibilities, as least for the main state-run Danish TV channels. Transmissions had been stopped for a while because there were few paying subscribers in southern Europe, and because the signal was widely pirated. The situation was in part remedied by networking and lobbying by Radio Solymar which is a focal point for Scandinavian residents particularly in Southern Spain. There's a lot more Scandinavians there than for example here in the south of France. Anyway, they persuaded DR (Denmark's Radio) to put the signal up again. So, it can be received at the Intelsat 707 satellite on spot 2. Which for us in Toulouse would mean a 80cm parabola. Still bigger than what we have, but certainly a lot more possible. But it isn't free. DR charges 284 euro per year for the subscription. And the broadcast is encrypted so one needs a decoder with the proper CONAX encryption module. Radio Solymar sells a decoder pre-configured for 369 euro. Which is pretty much also the price range for other decoders that can handle the encryption.

But it should soon get easier and better, although probably not cheaper. In the third quarter of 2004 the Telenor satellite company will be switching their services from the about-to-be-junked Intelsat 707 to the fancy new Intelsat 10-02 satellite. Broadcast area for spot 1 is here. Which puts most of Europe inside the sweet spot. Meaning that even a little parabola like ours will do fine. And Telenor has made a point of keeping the DR broadcast even if they might not make much money on it. But hopefully they'll show something else worth watching as well.

Well, it is not that Danish TV is that fantastic. I mean, "Who wants to be a millionaire?" isn't better in Danish than in German or French. But there are certain things we just have a nostalgic joy in watching. Actual Danish series like "Rejseholdet" or "Krøniken", or little entertainment quiz shows with celebrities we still remember. My mom is sending tapes once in a while, which is great, but it would of course be nicer to be able to just turn it on.