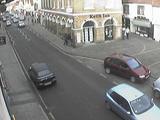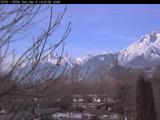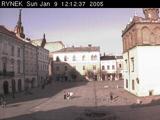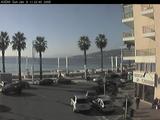 by Flemming Funch

BoingBoing had a couple of postings, here and here, about somebody having noticed that Google had indexed a lot of web cameras, and it is easy to list them if you know how the URLs tend to look for certain manufacturers' viewing pages.

The sort of mischievous thing about that is that many of these folks might not have intended for their webcams to be that public and easy to find. Well, obviously they can't be all that secret either. Google will only find them if they're linked from some other public page somewhere. And we're talking about cameras that are viewable for anybody who accesses that IP number in a web browser.

Anyway, I like webcams, and I was anyway thinking about making some webcam pages, so I couldn't resist going a little further on this opportunity. So, look at this page I just made. I grabbed the URLs of the first 500 or so of those pages from Google (using the SOAP interface). I figured out how to grab the currently first image from one of those streams. And then I set up a thing that scans through them every couple of hours and take a snapshot from each. And then, since we'd like to know where they are, I ran the IPs through HostIP which tells us the country and sometimes the city. So, you click on any one of them and you see the live video, at least if your browser can handle Motion JPEG. IE seems to have a problem with that.

Hopefully I won't hear from anybody's lawyer too soon. It seems harmless enough. You can see some airport lobbies, some streets and freeways, some people working in offices, some museums, some malls, some factory assembly lines, a school cafeteria, somebody's aquarium, a hangar where somebody parks their corporate jet, the snow conditions on some ski slopes. Doesn't seem to be any private bedrooms or anything like that.

What I like about webcams is not particularly the snooping, but more the telepresence. You can a little bit be somewhere else, far away, and watch a slice of life going by.