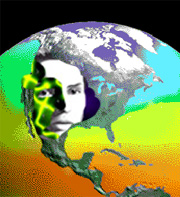 by Flemming Funch

The Global Consciousness Project is getting some press recently.
DEEP in the basement of a dusty university library in Edinburgh lies a small black box, roughly the size of two cigarette packets side by side, that churns out random numbers in an endless stream.

At first glance it is an unremarkable piece of equipment. Encased in metal, it contains at its heart a microchip no more complex than the ones found in modern pocket calculators.

But, according to a growing band of top scientists, this box has quite extraordinary powers. It is, they claim, the 'eye' of a machine that appears capable of peering into the future and predicting major world events.

The machine apparently sensed the September 11 attacks on the World Trade Centre four hours before they happened - but in the fevered mood of conspiracy theories of the time, the claims were swiftly knocked back by sceptics. But last December, it also appeared to forewarn of the Asian tsunami just before the deep sea earthquake that precipitated the epic tragedy.

Now, even the doubters are acknowledging that here is a small box with apparently inexplicable powers.

'It's Earth-shattering stuff,' says Dr Roger Nelson, emeritus researcher at Princeton University in the United States, who is heading the research project behind the 'black box' phenomenon.

'We're very early on in the process of trying to figure out what's going on here. At the moment we're stabbing in the dark.' Dr Nelson's investigations, called the Global Consciousness Project, were originally hosted by Princeton University and are centred on one of the most extraordinary experiments of all time. Its aim is to detect whether all of humanity shares a single subconscious mind that we can all tap into without realising.

It is simply a random number generator. It generates a lot of random ones and zeros. And a bunch of separate devices in different places do the same thing. And the thing is that the results are influenced by big global events. The numbers suddenly become less random and more coherent. And one can easily calculate how much they deviate from what they were "supposed" to be. And how unlikely that would be to be pure coincidence. And the fun thing is also that the results show a little before the actual events happen.

That isn't terribly strange, if we assume that everything is connected, and exists in the same unified quantum field. But it makes many scientists very nervous. Apparently they're becoming more comfortable with the idea, as the can't really get around the results, however much they try.

It isn't really worth much in predicting the future. All it shows is that something big is going on, or is going to happen shortly, which will be important to many people. But it gives no clue as to what it is going to be. So, mainly it probably serves to make consciousness something that science can't ignore. Which is a valuable aim in itself.