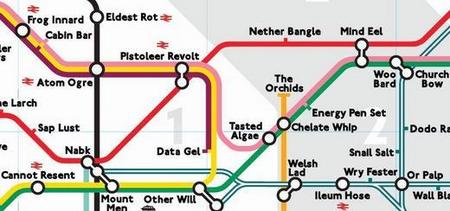 by Flemming Funch

A while ago I mentioned a site that was showing an assortment of variations of the London tube map, using anagrams, and a bunch of other funny things. The original site was taken down, and is still down, because Transport of London's lawyers contacted the owner of the site, and forced him to take it down because the Tube logo and the map is their "intellectual property". Which is rather ridiculous for a public institution like that to spend money on lawyers to threaten people who love the tube, and who spend their time getting creative with its symbols.

Now, as a number of other people who thought it was stupid, I put up a mirror of that site. And, now, 3 months later, the lawyers for Transport of London have contacted me and asked that I take down that site. Their letter is below. They had first written me without saying who they were, asking what the rules were for my site in terms of materials that violate copyright or trademark laws.

Anyway, hm, I'm not sure what to do. It makes little difference to me whether I have a page with silly tube maps or not, but the principle is important. But I'm not sure if it is important enough to put up a fight and let them try to sue me.


---


Thank you for your email.

The page in question is http://www.opentopia.com/tubemaps/

We act for Transport for London ("TfL") and Transport Trading Limited ("TTL") who are respectively the owner and the licensee of an extensive portfolio of intellectual property rights including the world‑famous bar and circle device ("the Roundel") and the tube map ("the Map"). The page described above infringes these rights.

I would be most grateful if you would take this page down as soon as possible.

If you require any further information, please do not hesitate to contact me – details below.

Many thanks in advance for your help in this matter.


Kind regards


Sophie Woollen

Solicitor

Commercial Department
Healys Solicitors
8 & 9 Old Steine
Brighton
BN1 1EJ
United Kingdom
DX: 2702 Brighton 1
Direct Line: 44 - (0)1273 - 669 115
Switchboard: 44 - (0)1273 - 685 888
Fax: 44 - (0)1273 - 685 454
Email: sophie.woollen@healys.eu
Website: www.healys.eu




**********************************************************************

The content of this e-mail (and any attachment) is confidential. The information transmitted is intended only for use by the addressee and may contain confidential and/or privileged material. Any review, re-transmission, dissemination or other use of it, or the taking of any action in reliance upon this information by persons and/or entities other than the intended recipient is prohibited. If you have received this e-mail in error, please inform the sender and/or addressee immediately and delete the e-mail and any attachments. Thank you for your co-operation. Healys uses virus checking software and we are not aware that this communication contains any viruses. However, we cannot guarantee that no viruses are present and we accept no liability for any damage caused by you opening this communication or any attachments or hyperlinks contained in it.

Click here (www.healys.eu/people.aspx) for a list of partners and places of business. As solicitors we are regulated by the Law Society of England and Wales and are subject to its practice rules, a copy of which can be found at www.guide.lawsociety.org.uk.

We do not accept service by e-mail.

**********************************************************************