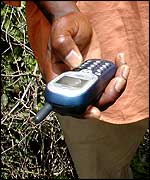 by Flemming Funch

According to BBC, web browsing on mobile phones is working out great for farmers and small vendors in Senegal, who can look up valuable market information.
Browsing web pages using a mobile phone may not be very popular in Europe, but it is catching on among canny market traders in Senegal.

The snappily-named Wireless Application Protocol was launched to much fanfare in Europe over two years ago. But has not won many fans, despite the fact that most handsets can use it.

But Senegalese market traders are proving that the technology does have its uses thanks to a project run by Manobi, a joint venture run by French and Senegalese entrepreneurs.

Manobi uses teams to gather information about the prices of foods and goods being sold in the markets in and around Dakar.