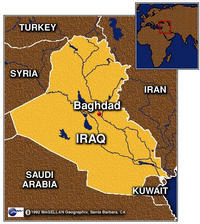 by Flemming Funch

This fellow is apparently writing his weblog from Iraq. He doesn't quite seem to be a native, but it is nevertheless a good look into how it is to be there.
"You learn to deal with the scheduled blackouts, you know when they are and for how many hours. But the last couple of days have been really bad. Very erratic, they turn it on and off whenever they like. We just freeze and thaw then freeze again. It has been very cold for the season and it is expected to get colder. The prices of kerosene heaters have gone thru the roof. There is a local factory, state owned, which manufactures these heaters, 130,000 Iraqi Dinars a pop. But buying one requires approval from the general manager. Don't ask. I can't figure why. It wouldn't be called bureaucracy otherwise.
Now take your newly acquired heater and stand in front of the company's building, someone will offer you 200,000 Iraqi Dinars for it within a minute. Look for it in the shops you will find it for 260,000 ID. That's free market economy isn't it? I decided it was cheaper to bring down an extra blanket."
When NATO was bombing Beograd I was chatting with a Serbian friend there online, while it was happening and sirens were going off, etc. That really gives a different perspective on things. You can't just generalize a population into some abstract symbol of an enemy when you can actually talk with them and we're friends. I hope some more people in Iraq can be online.