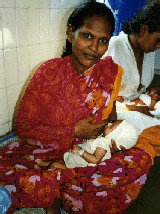 by Flemming Funch

Baby Milk Action is a non-profit organisation which aims to save lives and to end the avoidable suffering caused by inappropriate infant feeding. Baby Milk Action works within a global network to strengthen independent, transparent and effective controls on the marketing of the baby feeding industry.
The World Health Organisation (WHO) estimates that 1.5 million infants die around the world every year because they are not breastfed. Where water is unsafe a bottle-fed child is up to 25 times more likely to die as a result of diarrhoea than a breastfed child.
A marketing code was introduced in 1981 to regulate the marketing of breastmilk substitutes. Companies continue to violate it. Nestle is one of the biggest violators, aggressively marketing breastmilk substitutes in developing countries. See Nestle Boycott Campaign. Nestle distributes information in developing countries that promote artificial infant feeding and discourages breastfeeding. Nestle distributes free samples that last just long enough for the babies to be weaned off their mother's milk, after which they'll have to pay for Nestle's products, and, as mentioned above, if the water isn't safe, they're many times more likely to die. The company has a lot of blood on its hands by now.