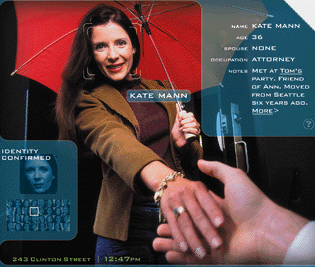 by Flemming Funch

Ross Mayfield mentions some interesting thoughts and scenarios concerning augmented reality (e.g. heads up displays showing you information about what you're looking at) converging with moblogging (weblogging via mobile phone type devices).
AR TOMORROW: RECOGNIZING FACES
Ever forget a face? Augmented reality will help you recover seamlessly when you bump into some-one and can't remember whether she's a college acquaintance or your accountant's ex-wife. Your AR system will automati-cally search a personalized face-recognition database, then provide text that tells you not only the name of the person you're looking at, but some key personal details as well.
I could sure use one of those. But it is also a bit of a freaky thought.