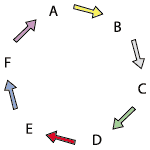 by Flemming Funch

Headmap posts a manifesto of sorts. Well, maybe more of an overview of what is cooking on the net than a manifesto, but great stuff.
The last six months have seen a new embryonic internet emerge into the light.
This new internet is more decentralised, structured, logically interconnected, people centred, and increasingly location aware

..maybe you have a newsreader that goes and gets rss feeds to save you trawling your favourite sites, maybe you have a blog which kicks out a structured rss feed and pings a blog search and analysis engine. Maybe you use one of the new selective blog search engines like feedster or blog link analysis engines like blogdex and technorati, or even a blog extended family tracker like blogstreet. Maybe you see the patterns emerging at a higher level. Blogs are now less interesting than the relations between them. Blogs are things to be aggregated, searched for patterns, ranked, indexed, analysed, those results being valuable to ordinary users as much as academics. What are bloggers tripping out on right now? Check blogdex. Feedster has a lag of about an hour, Google sometimes as much as a month. These tools are selective and they can become more so, answer questions like: what is this extended familly of bloggers tripping out about, what are my friends tripping out about?

All these new capabilities are emerging through distributed collectve tweaking.
Distributed collective tweaking, yes that's a good way of putting it. Maybe the whole world can change based simply on distributed collective tweaking. Lots of smart people making one thing or the other work a bit better, connecting their pieces together.