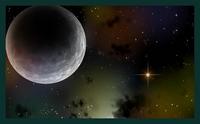 by Flemming Funch

Article in The Economist about the likely possibility that the dark energy and dark matter essential to modern explanations of the universe doesn't really exist as predicted.
IT WAS beautiful, complex and wrong. In 150AD, Ptolemy of Alexandria published his theory of epicycles—the idea that the moon, the sun and the planets moved in circles which were moving in circles which were moving in circles around the Earth. This theory explained the motion of celestial objects to an astonishing degree of precision. It was, however, what computer programmers call a kludge: a dirty, inelegant solution. Some 1,500 years later, Johannes Kepler, a German astronomer, replaced the whole complex edifice with three simple laws.

Some people think modern astronomy is based on a kludge similar to Ptolemy's. At the moment, the received wisdom is that the obvious stuff in the universe—stars, planets, gas clouds and so on—is actually only 4% of its total content. About another quarter is so-called cold, dark matter, which is made of different particles from the familiar sort of matter, and can interact with the latter only via gravity. The remaining 70% is even stranger. It is known as dark energy, and acts to push the universe apart. However, the existence of cold, dark matter and dark energy has to be inferred from their effects on the visible, familiar stuff. If something else is actually causing those effects, the whole theoretical edifice would come crashing down.
New analysis seems to indicate that the numbers don't match up, and that remote clusters of galaxies are more correctly explained if they contain more ordinary matter. Not that I really understand much of this, but it is just a reminder that most of the prevalent scientific theories about the universe are just that - theories. Somebody's best guess about how things work, often including weird and unseen factors to get the numbers to fit.