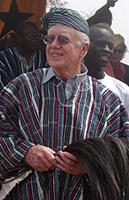 by Flemming Funch

Jimmy Carter has a blog. Well, at least he had one for some days while traveling in Africa this month. A few words:
"It is disturbing to observe the adverse effect of some U.S. policies on the less-developed nations. Despite helpful contributions of USAID and military assistance in Mali, for instance, the grossly exorbitant cotton subsidies for mega-farms in America cost the country far more than all the combined assistance from rich nations. Malians produced more cotton last year than any other African country and it is their number one export, but they had to sell it with no profit in order to compete with the heavily subsidized U.S. crop. Also, there is a heavy-handed effort by Washington to force other countries to violate the basic premises of the newly established International Criminal Court. Our government threatens to withhold military assistance unless they will guarantee that U.S. citizens be immune to possible punishment for war crimes or other atrocities. Another interesting development has been the efforts from Washington to elevate the issue of terrorism, and American diplomatic officials are forced to participate in this over-emphasis. We were warned strenuously about the new terrorist dangers that had arisen when we planned our visit to Timbuktu and Mopti. I decided that we would take a chance, and when we met with representatives of a dozen donor agencies in Bamako, I asked if any of them had any evidence of increased violence in the area or terrorist threats. The unanimous response was laughter."
How about running for president again, Mr.Carter. It is apparently hard to find humble and knowledgable folks who're willing to roll up their sleeves.