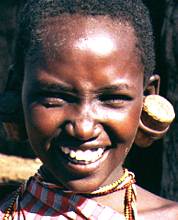 by Flemming Funch

Via BoingBoing, a psychological study has found that economic status doesn't seem to have much to do with happiness. Nothing very new about that, but something worth reminding oneself of.
It has been assumed that money increases well-being and, although money can be measured with exactitude, it is an inexact surrogate to the actual well-being of a nation. In a 1985 survey, respondents from the Forbes list of the 400 richest Americans and the Maasai of East Africa were almost equally satisfied and ranked relatively high in well-being. The Maasai are a traditional herding people who have no electricity or running water and live in huts made of dung. It follows, that economic development and personal income must not account for the happiness that they are so often linked to.
Of course I suppose that the Maasai have food to eat and clean water and things to do and nobody's shooting at them on a daily basis. Whereas poor people in certain other areas aren't so lucky, and won't be, because they're poor. Just adding up dollar amounts doesn't cut it of course. So here's this tidbit:
Instead, the authors propose that a population's "engagement, purpose and meaning, optimism and trust, and positive and negative emotions in specific areas such as work life and social relationships" should be considered when measuring the strength of a nation.
Yeah, happiness has something to do with having something meaningful to do, and feeling good about it. And if economics help or hinder that, it is of course part of the equation.