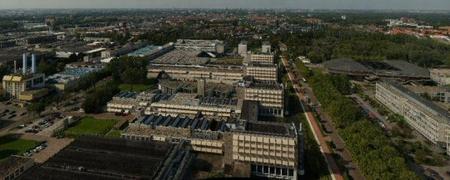 by Flemming Funch

Slashdot:

"Dutch research institute TNO has unveiled what it believes is the largest digital photograph in the world. The image contains 2.5 gigapixels or 7.5 gigabyte worth of data. It is composed of 600 single images shot by a computer-controlled pan-tilt unit in 7 second intervals. Afterwards, all photos where stiched together ... using the capacity of 5 high-end pc's in about 24 hours time."

Now, what's really cool about that is the fact that you can look at the picture online, and you can zoom in. Unbelievably close. At first glance it is just a fairly boring picture of a city. You can see what's close by it gets unclear and foggy in the distance. But then you can zoom in, and clearly see what is there. If you go look at it, you'll find that you can go read the license plates on cars and the street signs, many blocks away. Way out in the distance in the middle is a tiny little blob, just a handful of pixels at first. If you zoom in, you'll see that it is a magnificant church, and you can see what time it is on the clock on the tower.

So, how would that be for a webcam? One of those a day in all major cities. Or imagine when it becomes practical to capture live video like that. It will happen.