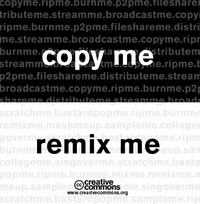 by Flemming Funch

Yahoo has a new search feature, for materials with Creative Commons licenses. I.e. typically stuff you can use freely if you just mention where they come from, or maybe that you can only use non-commercially.

Wait, how do they know? I search for my own blog, and it came up with a page here where indeed I mentioned that I consider what I write here to be in the public domain. Really, what I should do should be to put a proper CC image and link here that says so. I've so far labeled it as Primarily Public Domain which really fits best. But I like the idea that a formalized piece of xml will be allow various services to automatically find content with a certain license or dedication. So, I've added the public domain code from CC in my sidebar now.

Anyway, there's a growing number of ways one can search for liberally licensed content.

America Free TV gives you online streaming video programming like that.

OurMedia offers free hosting for CC licensed media.

Of course Creative Commons itself has a search.

Flickr lets you search for pictures based on their licenses. Flickr who btw was bought by Yahoo this week, who promises to let them keep doing what they're doing.

I'm sure there are others.