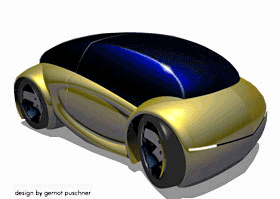 by Flemming Funch

The OScar Project:
It is the goal of the OScar Project to develop a car according to Open Source principles. In our opinion, a car is not a vehicle full of high-tech gadgets. Instead, we are looking for a simple and functional concept to spread mobility. Form follows function.

Apart from that, OScar is not just a car. It is about new ways of mobility and the spreading of the Open Source idea in the real (physical) world. On this website, you will find a great community of developers and drivers who want to invent mobility anew and together.
Yeah, an open source car. Not that they've gotten that far, but it is a noble project. Read an article about it here.