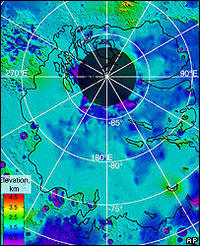 by Flemming Funch

That's fun news. Caves on Mars.
The caves may be the only natural structures capable of protecting primitive life forms from micrometeoroids, UV radiation, solar flares and high energy particles that bombard the planet's surface.

The spacecraft spotted what seemed to be vertical "skylight" entrances to caves below the surface.

There is a sheer drop of between about 80m and 130m or more to the cave floors below.

During the day, one of the features - nicknamed "Annie" - is warmer than surrounding pits and cooler than sunlit areas.

Night time temperatures are warmer than nearly all surrounding areas.

Co-author Glen Cushing, from the US Geological Survey in Flagstaff, Arizona, said this was exactly what would be expected if the feature were a cave.
And, on top of that, they've also discovered huge ice deposits on the south pole of Mars. Up to 2.3 miles thick. Enough water to cover the whole planet with 36 feet of water, if it melted. ... Of course, that would flood the caves too.