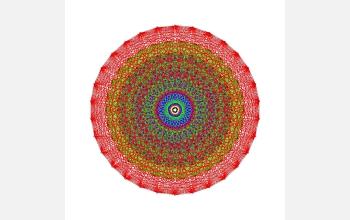 by Flemming Funch

National Science Foundation:
Ever since 1887, when Norwegian mathematician Sophus Lie discovered the mathematical group called E8, researchers have been trying to understand the extraordinarily complex object described by a numerical matrix of more than 400,000 rows and columns.

Now, an international team of experts using powerful computers and programming techniques has mapped E8--a feat numerically akin to the mapping of the human genome--allowing for breakthroughs in a wide range of problems in geometry, number theory and the physics of string theory.
You can read about it in Wikipedia. I don't really understand a word of it. It has a lot of dimensions, but I don't get whether it is 8 or 57 or 248, but it is obviously very complex. And somehow important to string theory and other fields. So, good job, I guess. I can't wait for the origami version.