This is my dynamic, frequently updated homepage. This is a NewsLog, also known as a WebLog or Blog.

Everything is evolving, so don't assume too much.

People to watch:
Adina Levin
Andrius Kulikauskas
Britt Blaser
Catherine Austin Fitts
Chris Corrigan
Clay Shirky
Dan Gillmor
Dave Pollard
David Allen
David Weinberger
Dewayne Mikkelson
Dina Mehta
Doc Searls
Elisabet Sahtouris
Elizabeth Lawley
Euan Semple
Florian Brody
Frank Patrick
Gen Kenai
George Dafermos
George Por
Graham Hancock
Greg Elin
Hazel Henderson
Heiner Benking
Inspector Lohman
Jean Houston
Jerry Michalski
Jim McGee
Jim Moore
John Abbe
John Perry Barlow
John Robb
Joi Ito
Jon Husband
Jon Lebkowsky
Jon Udell
Jonathan Peterson
Judith Meskill
Julian Elvé
Julie Solheim
Kevin Marks
Lawrence Lessig
Leif Smith
Letecia Layson
Lilia Efimova
Lisa Rein
Marc Canter
Mark Oeltjenbruns
Mark Pilgrim
Mark Woods
Martin Dugage
Martin Roell
Mary Forest
Matt Mower
Max Sandor
Michael Fagan
Mike Owens
Mikel Maron
Mitch Kapor
Mitch Ratcliffe
Nathalie dArbeloff
Netron
Noam Chomsky
Paul Hughes
Peter Kaminski
Phil Wolff
Philippe Beaudoin
Ray Ozzie
Raymond Powers
Rebecca Blood
Roger Eaton
Roland Tanglao
Ross Mayfield
Scott Lemon
Sebastian Fiedler
Sebastien Paquet
Skip Lancaster
Spike Hall
Steven Johnson
Stuart Henshall
Thomas Burg
Thomas Madsen-Mygdal
Thomas Nicholls
Timothy Wilken
Todd Suomela
Tom Atlee
Tom Munnecke
Tom Tomorrow
Ton Zijlstra
Lionel Bruel
Loic Le Meur
Nancy White
Mark Frazier
Merlin Silk
Robert Paterson
Colby Stuart
Nova Spivack
Dan Brickley
Ariane Kiss
Vanessa Miemis
Bernd Nurnberger
Sites to watch:
Webcamorama
Space Collective
Rhizome
Openworld
NotThisBody
Junto
Escape Velocity
Emergent by Design
Do No Harm
Collective Web
Collective Intelligence
Absara
YES Magazine
WorldChanging
ThoughtsOnThinking
Smart Mobs
Nanodot
MetaFilter
Manufacturing Dissent
Independent Media
Imaginify
HeadMap
Greater Democracy
Global Ideas Bank
FutureHi
Friendly Favors
Free Expression Network
Forbidden Science
Explorers Foundation
Electronic Frontier Foundation
Edge
Disinformation
Disinfopedia
Disclosure Project
Co-intelligence Institute
BoingBoing
Action without borders
French:
Emmanuelle
Manur
Elanceur
Loeil de Mouche
IokanaaN
Blog d'Or
Le Petit Calepin
GeeBlog
Absara
Guillaume Beuvelot
Ming Chau
Serge Levan
Jean Michel Billaut
C'est pas Mécanique

I live in Toulouse, France where the time now is:
02:25


Contacting Me

I get many hundreds of e-mail messages per day and my inbox is becoming increasingly useless to me. So, if you write to me, don't count on an answer unless we know each other really well, or your communication is short and clear. Oh, I'm very friendly and approachable, but I don't have hours enough in my day to read everything.
ffunch -at- worldtrans.org


Unique Readers:


Primarily
Public Domain

Everything I've written here is dedicated to the
Public Domain.



The quotes from other people's writings, and the pictures used might or might not be copyrighted, but are considered fair use. Thus, overall, this weblog could best be described as being:
Primarily Public Domain.
Online Networks:
Ryze.com
Tribe.net
Ecademy
LinkedIn
OpenBC
Transnational Republic
NCN
WebLog Resources:
NCN NewsLogs
Weblogs.com
blo.gs
Technorati
Bloglines
DayPop
Blogdex
PopDex
Blogging Ecosystem
BlogTree
BlogStreet
BlogWise
Syndic8
BlogChalking
GeoBlog
Technorati Profile
---
| | |
| --- | --- |
| Wednesday, May 14, 2008 | |
---
It took me a moment to remember the story... See, I did this posting in 2005: Jetsetters wants to sue everybody, which was about this fellow, Kriss Hammond, who said he wanted to launch a 10 million dollar lawsuit against me, because I had reposted some articles related to his outfit, Jetsetters Magazine. Articles written by some of his affiliates, specifically with a license to repost freely, with attribution. I don't know why they do that, if they don't want the articles to actually be used. Anyway, I had reposted them automatically, and they weren't particularly good articles or anything. Since the outrageous lawsuit threat was kind of amusing, I looked around a little bit, and found that Kriss Hammond seems do that kind of thing often, and that he runs a somewhat questionable business which involves paying him money to learn how to present oneself as a "travel writer", so that one can get free hotel rooms and that kind of thing. At least that's how I understood it.

I had mostly forgotten about it, until the guy sent me an e-mail yesterday:
Hello Ming the Mechanic, also known as F Funch. We know who you are and where you live and operate. For some time you have had a posting about Jetsetters Magazine on the net that shoiuld be taken down, if you are truly a practioner of change. If you are not truly a practioner of change, we are about to change your financial status, as we did with Carl Parks.

Sincerely,

Kriss Hammond - j...@hotmail.com
Editor - Jetsetters Magazine
Carl Parkes was a vocal critic of the Jetsetters scheme, and is a (real) travel writer.

Changing my financial status, hey, I'd welcome that, but I think he means it as a threat.

I can guess why he doesn't like my previous posting. See, if you look up "Jetsetters Magazine" in Google, there are 48,000 matches, and mine is number 3. That's of course a bit annoying when one is trying to game the search engines with thousands of poorly written travel articles that all link to the Jetsetters homepage.

26 minutes later, Kriss sent me this message:
When we originally posted Jetsetters Magazine articles on GoArticles.com there was no intention for you to use the articles within your site without our permission, which at your own admission, you did. Thank you for taking them down. Also, please remove your Ming the Mechanic reference to us, and in the future stop referencing us in any way or slandering or libeling our name online. We have helped many budding writer enhance their lifestyles, which you and Carl Parks have liebeled and slandered. We have taken care of Mr. Parks, and now are concentrating on you. We can have one of our colleagues call upon you if you wish, at 6 rue Pedro Gailhard, 31100, Toulouse France. Thank you for your understanding and consideration.
It doesn't sound too good that they have taken care of Mr.Parks (it is Parkes, really). Or that he'd like to send some thugs to my door. Then, again, Kriss Hammond doesn't strike me as a very well armed opponent in the legal arena or in any other arena. Anyway, he wasn't done, so 18 minutes later:
We will give you exactly until June 1, 2008 to remove all references online from you as Ming the Mechanic to Jetsetters Magazine and then we begin law suit procedures. We realize you are a professional programmer, and if there is any threats, real or inferred to our websites from you we will incorporate those threats, real or inferred into any existing or pending lawsuit. We will also attach this lawsuit to your chateaux in France through French courts. I don't think you really realize who you are dealing with. Our IT staff is monitoring all our websites for any illegal or illicit activity to them by you or others. We have deep pockets and relish any legal confrontations with you.
Oh no, please don't touch my chateaux. I'd have to live on my yacht if you took them away from me.

Now, today there was a Skype request to add "Kriss Hammond (jetsetters2)" to my contact list, with this reason "Jetsetters Magazine lawsuit". I don't think I want to chat with him on Skype about that at odd hours of the day, so I declined.

I'm very approachable, and normally willing to discuss it if somebody is not happy with something I've posted somewhere. If Kriss Hammond had simply asked me to remove his travel articles back then, I'd just have done so. Oh, I did, but since he also threatened me, I wrote about it. Which I do now as well. You would get much further by being nice, Mr. Hammond.

---

... A day later: Kriss Hammond sent me a couple more messages where he actually sounded more human and friendly. I'm not sure if it is because of my e-mail answer or because he read this message. I sort of suspect the former. Anyway, that's a positive sign. Most people want things to come out well, but sometimes they pick the wrong strategy at first.
[ Diary | 2008-05-14 12:45 | | PermaLink ] More >


---
| | |
| --- | --- |
| Thursday, May 8, 2008 | |
---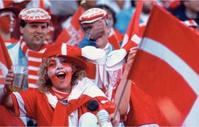 It's an article on Tim Ferriss' excellent blog: "6 Reasons to Visit the World's Happiest Country". Makes me feel good about being Danish.
4. The people are beautiful but seem unaware of the fact.

As Bill Bryson once observed: you could cast a Pepsi commercial here in 15 seconds.

Right up there with Argentina, Denmark has a jaw-dropping number of gorgeous people. The truly beautiful part, and unusual differentiator, is that appear blissfully unaware of the fact. There is little LA-style pretension unless you go to a social climber magnet like Club NASA, which helps to pull the mirror gazers off the streets. Go in the spring or summer and there is no need for catwalks—the sidewalks at Nyhavn are good enough. For those feeling the club or lounge itch, Vega and JazzHouse are hard to beat.

5. Danish design is incredible to experience, even for non-designers.

"It doesn't cost money to light a room correctly, but it does require culture." This quote from Poul Henningsen, encapsulates the beauty of Danish design minimalism. Much like in Japanese design, form follows function, and half of the time I found myself in a great mood in Copenhagen, I realized it was due to the planned passage of sunlight in Danish architecture, as well as their understanding of interior lighting intensity and placement.

Bigger is not better, as is so often the case in the US, and the tallest building in Copenhagen is a modest 358 feet.

From the sleek silverware of 2001: A Space Odyssey to the most famous chairs in the design world, the Danes have a functional and pleasant feast for the eyes almost anywhere you go, whether the renowned Louisiana museum or your hotel lobby....

[ Culture | 2008-05-08 23:01 | | PermaLink ] More >


---
| | |
| --- | --- |
| Wednesday, May 7, 2008 | |
---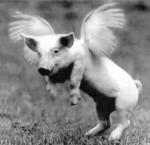 Decoherence on Metafilter:
Rutgers professor of philosophy Jerry Fodor created a bit of a stir last October when he wrote an article for the London Review of Books arguing that natural selection may not be such a great theory after all, and that a "major revision of evolutionary theory... is in the offing." Not many fellow philosophers and academics agree, it seems. Fodor responds to his critics here and here. Six months later, it's still not entirely clear whether his argument is, as Justin E.H. Smith put it, "irresponsible and stupid or so subtle that none of his adversaries, defending a status quo interpretation of the theory of natural selection, have been able to get it yet."
I think that's a rather brilliant article by Jerry Fodor. He starts off in part by addressing that same issue I just commented on:
What's wrong with us is that the kind of mind we have wasn't evolved to cope with the kind of world that we live in. Our kind of mind was selected to solve the sorts of problems that confronted our hunter-gatherer forebears thirty thousand years or so ago; problems that arise for small populations trying to make a living and to reproduce in an ecology of scarce resources. But, arguably, that kind of mind doesn't work very well in third millennium Lower Manhattan, where there's population to spare and a Starbucks on every block, but survival depends on dodging the traffic, finding a reliable investment broker and not having more children than you can afford to send to university. It's not that our problems are harder than our ancestors' were; by what measure, after all? It's rather that the mental equipment we've inherited from them isn't appropriate to what we're trying to do with it. No wonder it's driving us nuts.
But his main point is to argue a bit against that fundamental and holy principle of evolution: natural selection.

To summarize a bit: There are two fundamental, but distinct parts to the theory of evolution. 1. All life forms are evolving, later species and variants evolving from early forms, so we seem to have descended from monkeys, for one thing. 2. Evolution is happening by natural selection, i.e. by individuals and traits being selected for because they're better adapted to their environment.

Nobody but religious nuts are disputing evolution according to #1. Most evolutionists also hold #2 as being an inseparable and self-evident component in evolution. But there are many more problems with that, as Fodor points out.

Natural selection is normally presented as working exactly like how it works when somebody selectively breeds some plant or animal to cultivate particular traits. Purple roses, or fluffy short-nosed cats, etc. That selective breeding scenario is easy to understand. But the odd thing is when, in nature, it is coupled with the firm conviction that there surely is nobody there to do the selection. It is actually specifically and emphatically used to try to disprove that there's any mind involved, that there's anybody there who chooses anything. Fodor also thinks there's no mind involved and doesn't believe in God or Mother Nature. I personally would tend to think there has to be some kind of intelligence involved. Anyway, he's mainly addressing the lack of logic in the assumptions that natural selection happens based exclusively on adaptabtion to one's environment. He doesn't provide much of an alternative, but he points out that evolution would happen even without that. See, clearly, all traits aren't selected based on that they're a perfect fit for some environment. Some of them come along in the package of whatever else turns out to be advantageous. Animals that evolve to be more tame also turn out to have more floppy ears and more curly tails, even though that doesn't give them any obvious advantage. It is simply some traits that happen to be connected to the genes that relate to tameness. So, likewise, lots of traits might develop simply because they tag along with some other traits that get emphasized for one reason or another.

So, pigs don't have wings, and have never had wings, and there have never even been any pigs who went extinct because wings weren't a good idea after all. Because wings would be pretty far from the package of traits that go into a pig. A whole bunch of things would have to change at the same time, and that's not where the evolution of pigs is pointed.

I'm no biologist. But I do have a bit of a sense of what's logical and what is not. Evolutionary biology is full of anthropomorphisms that make no sense when coupled with the foregone conclusion that there's nobody there, no intelligence, that it is just all blind accidents. "Natural selection" implies that somebody selects. Genes can't be "selfish" unless they have some kind of mind. Nothing does anything "in order to" have a certain advantage unless there's something there that can make plans and choose among alternatives. So, either they haven't understood the actual mechanism that does this completely automatically, or they're missing the agent that does it. You can't really have it both ways.
[ Nature | 2008-05-07 16:35 | | PermaLink ] More >


---
| | |
| --- | --- |
| Tuesday, May 6, 2008 | |
---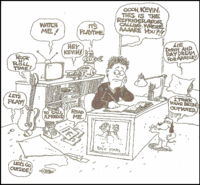 L.A. Times: "Does your brain have a mind of its own?" - Why can't we stick to our goals? Blame the sloppy engineering of evolution.
How many times has this happened to you? You leave work, decide that you need to get groceries on the way home, take a cellphone call and forget all about your plan. Next thing you know, you've driven home and forgotten all about the groceries.

Or this. You decide, perhaps circa Jan. 1, that it's time to lose weight; you need to eat less, eat better and exercise more. But by the first of May, your New Year's resolutions are a distant memory.

Human beings are, to put it gently, in a unique position in the animal world. We're the only species smart enough to plan systematically for the future -- yet we remain dumb enough to ditch even our most carefully made plans in favor of short-term gratification. ("Did I say I was on a diet? Mmm, but three-layer chocolate mousse is my favorite. Maybe I'll start my diet tomorrow.")...
I thought it was just me. It seems surprisingly hard to make my mentally conceived plans stick. If once in a while I really feel what needs to happen in my bones, or in my gut, it happens. But if it is merely a good idea, however logical, coherent and important I conclude it is, it usually gets overridden by whatever distraction that shows up that feels more compelling in the moment. And my plans are easily forgotten.

The article blames it on faulty evolutionary engineering. I'm not sure I believe in such a thing, i.e. I don't quite believe that evolution is so dumb and blind, but he does have a point. Our animal instincts are well developed. A danger appears and we'll know how to jump aside, without thinking about it. Something delicious appears in front of our nose and we'll be munching on it it no time. Our abstractly thinking mental faculties are much more sophisticated, but at the same time they seem like an after-thought, not entirely wired into the machinery. We can make great plans, based on the processing of abstract information, aimed at desirable long term objectives. But a single piece of chocolate cake or a random interesting website might get us off track.

I suppose some people have something called discipline, which involves subordinating what one actually feels to one's mental plans and ideals. But that just seems so .. brutal. It would of course be better if one's instincts, emotions and physical desires actually were synchronized with the mental planning. Not subordinated to it, as the mental ideas aren't necessarily the ones that are right. But coordinated at least. Maybe I should work on that. Or maybe I'll see what's on TV.
[ Organization | 2008-05-06 13:57 | | PermaLink ] More >


---
| | |
| --- | --- |
| Wednesday, February 27, 2008 | |
---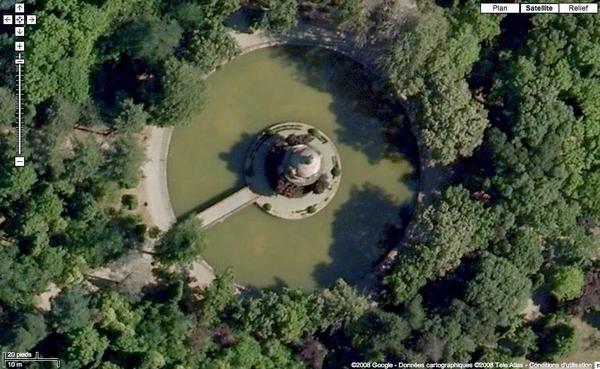 Next to the house we live in on Les Hauts de Ramonville is this huge walled-off area called Domaine Latécoère, which used to be the home of Pierre-George Latécoère, the airplane manufacturer. One can see his Chateau through one of the gates, but nobody seems to live there, other than some caretakers. Otherwise it supposedly is just a nature preserve. We can see the many kinds of trees in the forest from our kitchen window. Sometimes people are hunting there. But it is a private and closed area and the walls are tall. Would be no easy way of sneaking in there. But I'm terribly curious. Particularly since I concluded that this particular hill must have been the location, 1000 years ago, of Raymond IV's castle Bellevue, from which he took off on the infamous first crusade against Jerusalem with a thousand of his best knights, and lots of hangers-on.

So, I looked in Google Earth, of course, to see what else was in there, apart from what I can see from the outside, like huge sets of stairs leading to the top. But at the time Google only had pretty low resolution pictures, so pretty much all one could see is that there's a little network of roads criss-crossing the area, and that most of them meet in one or two points, one of them seeming to be the top of the hill. ..But now, since recently, they have much better pictures. Nothing very surprising, other than this, on the picture, which seems to be what is found at the top of the hill, behind the chateau. A little round lake, with a bridge out to a little island, with a tower or pavillion. How exciting. There will of course be a hidden trap door at the bottom, leading down to the hidden treasure chamber. OK, I'm dreaming, I don't know if there's supposed to be a hidden treasure there, except for that the gold of Jerusalem sort of disappeared.
[ Diary | 2008-02-27 14:43 | | PermaLink ] More >


---
| | |
| --- | --- |
| Sunday, February 24, 2008 | |
---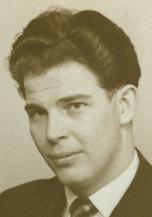 My Dad died this week. I didn't really know him very well, so it is hard to know what to feel. At first I didn't feel anything. And the loss I feel now is maybe more abstract than it is about him in particular.

It is important to have a father. Mine got divorced from my mother when I was 1 years old. I mostly didn't think about what it would mean to have a father, because I didn't really have one who was there. My mother married again, but I never considered the new guy my father, even though he obviously was a continuous male presence.

And I didn't see my real father much. Maybe a total of 2 or 3 times as I was growing up.

I liked him. His particular way of speaking, Copenhagen dialect, from I'm not sure what exact part of town, made me feel somehow safe and comfortable, as if I was used to it from when I was a baby, even though I don't really remember. And not that he ever really acted much like a father, even though he always was friendly.

He didn't do anything in his life that will make any history book. He was a fireman for a while, a taxi driver for a while, and an assortment of other odd jobs that didn't last overly long. I have no problem with that, I'm kind of proud of coming from a simple working-class family.

I wish I had inherited his hair. He still had a full head of wavey dark hair last I saw him, whereas I'm close to bald.

I maybe wish I'd have a lot of memories to talk about. Although maybe it is better not to.

What I'm sad about is maybe the thought of the importance of having a father. I wish I had had a father more. And maybe it reminds me that I haven't always been as present with my kids as I could be. Oh, I'm still here and haven't gone anywhere, but one could of course always have done it better.

At any rate, I'll be in Denmark at the end of the week for the funeral.
[ Diary | 2008-02-24 21:18 | | PermaLink ] More >


---
| | |
| --- | --- |
| Saturday, February 23, 2008 | |
---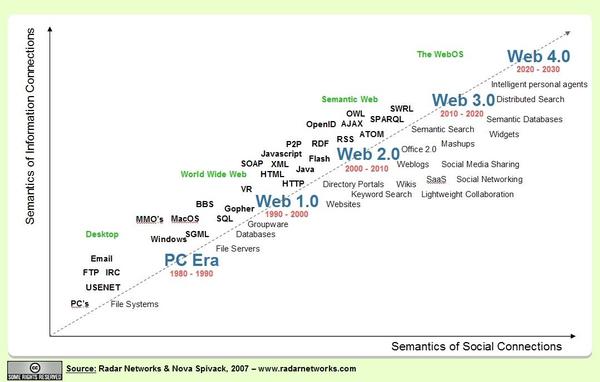 Nova Spivack has a nice video presentation, of the Semantic Web, and a suggestion of what would be called Web3.0 and Web4.0. For dummies. Well, for a group of French business school students, at least, but it means he explains it in simple terms.

He labels Web1.0 as the "Worldwide Web", Web2.0 as the "Social Web", Web3.0 as the "Semantic Web", and Web4.0 as the "Intelligent Web". The graphic there is older than what he uses in the video, so the labels are a little different. Of course, since it hasn't happened yet, nobody can be sure what it will be or what it will be called, but this makes very good sense. Particularly, it makes sense to plot it on such a graph, where the Y axis is connections between information, and the X axis is connections between people.

Web 2.0 connects people and information pretty well, but it is based on relatively crude methods, such as matching people and information up based on keyword searches. The Semantic Web implies that information is encoded with metadata, so that for example a search for the animal "jaguar" is different from a search for "jaguar", the car brand, or "jaguar", a version of Mac OSX. I.e. the data is more structured, so you would be able to get more precise and appropriate answers to queries, and you can ask for more complicated stuff.

In The Intelligent Web, it would all become an integrated whole, like an operating system. It wouldn't matter where something is stored, by what program, on what server. It would be like "Computer, give me ...", and it will find it. And that this web would be more proactive in getting you stuff without you having to first ask for it. Of course that's all rather fuzzy, and he places that in 2020-2030.

And, of course, nobody has any real good answer to who's going to encode everything with metadata for Web3.0, and nobody has invented anything that looks much like the Artificial Intelligence needed for Web4.0, so it is all up in the air. But it is a good and simple road map.
[ Information | 2008-02-23 17:19 | | PermaLink ] More >


---
| | |
| --- | --- |
| Friday, February 22, 2008 | |
---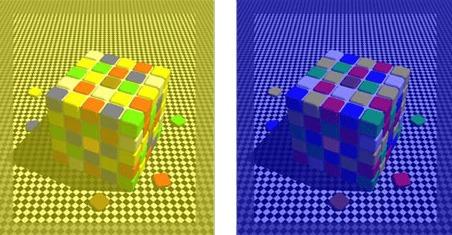 If I told you that the blue tiles on the top of the cube to the left is the same color as the yellow tiles on top of the cube to the right, how much would you be willing to bet that I was wrong?

If you have an eyedropper plugin in your browser, or as a tool on your computer, you can check it out. They're exactly the same color. You brain is fooling you.

Here's another one: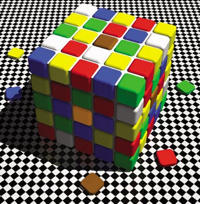 The brown tile in the center of the top face, and the yellow tile in center of the side facing front left, what do you say? They're exactly the same color.

(Via BoingBoing
[ Information | 2008-02-22 11:07 | | PermaLink ] More >




By Blaugustine, from here
[ Culture | 2008-02-22 14:42 | | PermaLink ] More >


Blogging is a bit too much like publishing. I mean, writing articles to be published.

Of course different people use the medium differently. Some people still just write about what their dog had for breakfast. But, with few exceptions, the blogs that are interesting to read consist more or less of articles that people write.

But that makes it less fun and useful to write. Writing an article is for me connected with deadlines and trying to match the expectations of the audience. Where I'd rather write a weblog for me, and then maybe share it with others as a second thought.

So, what happened to the idea of "log" or "logging"?

See, a log is really something more directed. One might keep a log if one is working on something. A record of one's progress, one's discoveries.

Like, a learning log, or a research log. One is working on finding something out, solving certain problems, arriving at certain goals. And one keeps a record, which charts the path, maybe for others to learn from too.

That's not how I use a weblog. I'd like it to be. But that would require a re-framing.

In that case one would set a theme or a goal. It is quite possible that the process would have an end, as one either reaches the goal, or one no longer is interested in the subject. So, one would open up new logs, keep them going as one is continuing exploring the subject matter, and one closes them when one is done.

That doesn't work so well with the way we currently use blogs. I'd expect a person to have preferrably one blog, which I can subscribe to in my blog aggregator. If they have several, it is a little annoying, and if they close them down and start new ones, it would be more annoying.

Regular blogs have categories or tags. Which of course can be used for particular threads. But typically one tries to subscribe to everything one person is blogging, and you might get a mix of postings on very different postings. Which is why most blog owners feel obliged to keep a certain uniform atmosphere in all the postings, as if it were a magazine, with a certain style and theme.

But, say I wanted to log several different of my interests and activities. Like me right now, I'm interested in photography, rollerskating, genealogy, Ruby on Rails programming, plus a whole bunch of other things I'd be more likely to write about on my blog. But, say I wanted to have a log of my experiences as a novice photographer. There are lots of blogs like that, where people share their photos, talk about their equipment, etc. Just like there are lots of blogs about genealogy, where people talk about their research, resources they find, etc. But if I mixed all of that together, it might not be fun for readers who aren't interested in those things, who just want to see me write about alternate dimensions or new civilizations or something. So, would I have a different blog for each? That would be quite feasible, if they were ongoing interests. Less so if they were more short lived. I don't think it is very comfortable to maintain several separate blogs, though.

From the user perspective, the author, the logger, me, I'd really want just one interface for an assortment of logging subjects. I wouldn't want to log into a different account for each one. Rather, one interface where I freely can add new subjects, and add log entries for any of them. Some of those subjects would be just for me, others I would choose to share, and maybe make public.

Of course, those logs that one chose to make public could be channeled into what appeared as different blogs for the rest of the world. But I wouldn't experience it like that. I'd just log stuff in my logging application.

And it would open the door to a different way of presenting or interacting with such logs. I mean, if each one logs the evolution certain subject, which maybe now is done, I'd like better ways of dealing with that sequence of events as a whole. It wouldn't just be an abandoned blog, but simply the log of a finished project.

People do put stuff like that on their blogs, but it might be hidden between lots of other things. A log of remodeling my garage is a perfectly valid and complete project. Doesn't have to either hide between posts about totally different things, or be a very short lived and abandoned blog.

If one keeps a log of actually going somewhere, trying to accomplish something, it also invites additional functionality to give the full picture. A project or a quest isn't just a series of equally important log entries. Some things will be more important than others. There will be key discoveries, reevaluation of priorities, ups and downs, a growing body of knowledge.

As one example, one might have a wiki-like area, functioning in parallel with the log, in which one puts the more permanent record of what one has learned or accomplished, the subject matter of the log. And maybe its versions would be synchronized with the log, so that one could see the evolution of the more permanent part. At the point of that particular log entry, how did the list of links look? How did it look the week after that?

It ties in with a project I'd like to do, but which I haven't carved out enough time for yet, which is to structure environments for particular purposes. Dynamic webpages that are structured so as to support what one is trying to do. A brainstorm takes a different structure and different tools than does a research project or the process of starting a new company. Each one involves some combination of logs, notes, permanent records, links, lists, outlines, ordering, sequencing, randomity, and more. If you don't use an environment that supports what you want to do, it doesn't work so well. A blog or a wiki or a forum do different things and inspire different kinds of behavior. The right constellation of interdependent tools can accomplish something more precise in a more appropriate manner.

This post here could be said to be a log entry in the project of building such things. But putting it right here doesn't help me much in keeping a record of my progress.
[ Projects | 2008-02-22 16:36 | | PermaLink ] More >


---
| | |
| --- | --- |
| Thursday, February 21, 2008 | |
---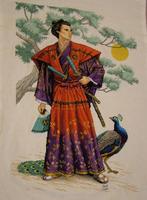 Cool. The creed of a samurai, written around 1300 by an unnamed author. Via Chris Corrigan
I have no parents; I make the heaven and earth my mother and father.
I have no home; I make awareness my dwelling.
I have no life and death; I make the tides of breathing my life and death.
I have no divine power; I make honesty my divine power.
I have no means; I make understanding my means.
I have no magic secrets; I make character my magic secret.
I have no body; I make endurance my body.
I have no eyes; I make the flash of lightning my eyes.
I have no ears; I make sensibility my ears.
I have no limbs; I make promptness my limbs.
I have no strategy; I make "unshadowed by thought" my strategy
I have no designs; I make "seizing opportunity by the forelock" my design.
I have no miracles; I make right action my miracle.
I have no principles; I make adaptability to all circumstances my principles.
I have no tactics; I make emptiness and fullness my tactics.
I have no talents; I make ready wit my talent.
I have no friends; I make my mind my friend.
I have no enemy; I make carelessness my enemy.
I have no armor; I make benevolence and righteousness my armor.
I have no castle; I make immovable mind my castle.
I have no sword; I make absence of self my sword.

[ Inspiration | 2008-02-21 13:04 | | PermaLink ] More >


It is odd that nobody has made an open, public, platform free social network yet. Social networks *should* be independent of any particular central website, but it hasn't happened yet. They're all isolated, proprietary islands. Or, even if they're built on open source software, there's no way of exchanging much between them.

My main contribution to the field of social networks was and is the New Civilization Network. Which still exists, and I'm posting this message from my blog within it, but which is a bit dated in terms of it's software. But it has had profiles and buddy lists and blogs and forums and picture galleries for more than a decade. At the beginning, it was the intention to create a platform for social networks that would span many servers, run by different people, so that one could plug into it from many places, each having a different flavor, but accessing the aggregated resources of all of them. "The Sprawl" was the code name for this plan. Didn't actually materialize, so today NCN is just another isolated island in cyberspace.

Facebook, Ryze, Orkut, LinkedIn and all the others are also separate islands. Several of them have interfaces so that programmers can add modules to them, or access a limited amount of information from them. But nothing at all that allows you to move seamlessly between them.

People who make virtual worlds are working on standards that would allow you to go from one to the other. There's no terribly good reason you shouldn't be able to teleport from Second Life to World of Warcraft. To create something like that would require that one defines a minimum of characteristics that a virtual character would have everywhere, so that each world could implement a way of supporting them.

Social networks could do the same. If there was a shared way of representing a person/profile, what they do, and who they know, it should be something transferrable. But it is probably harder than the virtual reality scenario. Because a big part of it is the relation one has with other people. Or, we could say, with other profiles. And how do they exist, separately from a particular network site and its software?

That probably ties in with identity. How does one know that the ffunch on Facebook is the same as ffunch in Orkut? Not without some shared standard of identity, one that everybody would support.

But, assuming that the problem of a universal identity system was worked out, what would be interesting would be if somebody made the pieces of a platform-free social network.

The web is based on some standards for presenting content, and linking it together. It doesn't matter what server anything is on, it is just part of the address. So, I can link to your stuff from my webpage, hosted on any which web server, and I can even include some of your stuff on your server in my page on my server.

That is of course how a social network should work too. I don't just have friends who use the same brand of shoes as me, or who drive the same brand of car. I have friends wherever they happen to be, and whatever they do. The web way of doing it is of course that I can link to them, and make a list of them, no matter where they are, what ISP they're using, etc.

I can call your Nokia phone from my iPhone. Doesn't matter at all, as long as I have your number. That's kind of the point of network structures, that one can link freely between nodes. That's kind of the definition of a network. So, what we call Social Networks are kind of fake networks. One can list web links as before, but one can only link to people who are wearing the same shoes, who are subscribed to the same website.

So, all it takes is that somebody comes up with a way of expressing profiles and lists of contacts in a standardized format that can be put on any website. Some kind of XML thing that has most of the things you'd find in a profile on Facebook. Your interests, where have you worked, the lists of movies you like, and links to other profiles.

There is, of course, FOAF, which is indeed an open format for expressing a list of contacts. And, really, it is what the Semantic Web is supposed to do. And the World Wide Web could transform into the Giant Global Graph, connecting everybody with everybody else, no matter what server their stuff is on.

"Social Graph" is a word that expresses what Social Networks should have been, but aren't: the actual network of connections between people.

I don't know what's so hard about it, since it hasn't yet happened. Other than it maybe is more complicated than it seems. Whenever I try to look at the work of standards groups that are working on pieces of that puzzle, I walk away confused. I'm not sure if that's because it really is terribly complicated, and I'm a little slow and/or impatient, or because they're making it more complicated than it is.

Sometimes a major advance in Internet standards comes from somebody who didn't bother dealing with committees taking years to work through all the complexities. Dave Winer invented RSS and XML-RPC and other good things, basically just by deciding what would be useful to himself. RSS is very simple, and can't really be called anything other than a huge success. Somebody might come along and do the same thing with the standards needed for social graphs.

Anyway, in a week and a half I'm going to BlogTalk and Webcamp in Cork, Ireland, which will focus on these kinds of things, I'm sure, with smart people who've been much more involved in possible solutions than I have. So, hopefully I'll get a little wiser on where things are going.
[ Organization | 2008-02-21 21:16 | | PermaLink ] More >


---
| | |
| --- | --- |
| Wednesday, February 20, 2008 | |
---
Buckminster Fuller, from "Critical Path":
"A lot of people think or believe or know they feel (experience) -- but that's thinking or believing or knowing; not feeling (experiencing). Almost anybody can learn to think or believe or know, but not a single human being can be taught to feel (experience). Why? Because whenever you think or you believe or you know, you're a lot of other people: but the moment you feel (experience), you're nobody-but-yourself. To be nobody-but-yourself -- in a world which is doing its best, night and day, to make you everybody else -- means to fight the hardest battle which any human being can fight; and never stop fighting."

[ Inspiration | 2008-02-20 15:38 | | PermaLink ] More >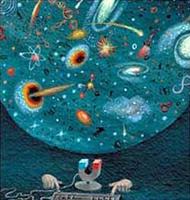 Fun article by Linda Moulton Howe: "Could Our Universe Be A Virtual Reality Processed By Other Intelligence?" about a professor in Auckland who wrote a paper about that. That's not a new discussion, but it is always stimulating. In part because it makes us question a number of things about our existence. Which is a bit dangerous, of course. Quote by John Vacca from "The World's 20 Greatest Unsolved Problems":
"Quantum physicists who work with quantum theory every day don't really know quite what to make of it. They fill blackboards with quantum calculations and acknowledge that it is probably the most powerful, accurate and predictive scientific theory ever developed, but the very suggestion that it might be literally true as a description of Nature is still greeted with cynicism, incomprehension and even anger."
Theoretical scientists can propose outrageous theories about how the universe works, but you easily get in a bit of trouble if you propose that it might have something to do with our everyday existence.

Anyway, Professor Whitworth there has worked for years on finding analogies in the computer world for how the world works, and he also has some interesting answers for how certain qualities of the physics we discover seem to back up the idea that the universe is a simulation. Whis is the subject of the interview in the article.

So, how would, for example, the limited speed of light indicate that the universe is a simulation?
There is a fixed amount of processing available, let's say, in space. So, if an object is being passed from point to point in space, there's only a certain amount of processing available to each point in space, OK? And if that processing is involved in the calculation of movement, that changes the processing. The smaller and smaller amount that is left makes the mass seem greater and greater.
Or, expressed in a computer screen refresh metaphor:
Your screen has a certain rate with which it refreshes, which depends upon the little points that make up the screen. And each of these points can only flash on and off at a certain rate. So when a pixel moves across the screen, what it means is that it starts off and one point flashes. Then that point turns off and the next point flashes and so on. So, the rate of movement depends on the rate of flashing of the screen. It's the refresh rate and it might be 70 megahertz; it might be 80 megahertz ... But whatever it is, it doesn't matter. That's going to mean that a dot can move across your screen so fast and no faster.
So, the speed of light is just the screen refresh rate, that is fun. What about the Big Bang?
The Big Bang is when the simulation was started, when the virtual processing began...

A lot of people have trouble with the idea that Time began at the Big Bang. I know I certainly did – and that space began. How can Time begin? Surely something must have caused Time to begin, but how can you cause anything if there is no Time to have a prior event?

But if you say we're in a virtual reality, or local reality, then the Big Bang is when our Time began and our Space began. That is perfectly reasonable. So, if you go online to Second Life or something, when you switch on your computer and enter the reality. That's when that Time - or perhaps when Second Life was created – that's when its Time began.
And here's an angle I like:
Now, if the physical world is a virtual reality that does not necessarily imply that our consciousness is in the virtual reality. It could be exactly the same as your playing an avatar in a game. It's conceivable that while everything you see and hear is definitely part of the pixels – or certainly, part of the virtual reality – it's possible that you are not looking from inside the virtual reality.

This relates to very deep questions about whether a mechanical universe could create consciousness. I must admit I haven't worked through all these things yet, but it's certainly something that has concerned a lot of people from Descartes on.
Actually, if we imagine that the universe is a simulation, it makes it all the more unlikely that the consciousness which is you is fully generated by the simulation. There'd be no point to Second Life it you couldn't, from the outside, step into it and experience the simulation. You can change your hairstyle, or your body style, and you can redecorate your house, but if there's nobody there, there's just no point. Same thing with a universe.
The postulate is that the physical universe – if indeed it is a virtual reality – cannot create itself out of itself. It's just not possible. So, there must be Something outside of it. Therefore, quantum mechanics is describing that Something. The equations of quantum mechanics, which are quite different from our concepts of physical reality, are describing this Something. The idea is that what we are seeing as we walk around is just an interface which is calculated at the moment when we look, sort of an on-demand thing.
Now we're talking.

Of course, even if we conclude that the universe is a virtual reality, it doesn't necessarily mean it is running inside some huge computer. It means there's processing going on, but what medium it exists in, that's another matter.
[ Knowledge | 2008-02-20 16:39 | | PermaLink ] More >




<< Newer stories Page: 1 2 3 4 5 6 ... 97 Older stories >>



This is a collage of things that catch my eye, things that need to be said, and stuff I really care about


TRUTH
BEAUTY
FREEDOM
LOVE
TECHNOLOGY



Previous stories
2011-11-28
2011-11-24
2011-11-20
2011-11-19
2011-11-17
2011-11-15
2011-11-14
2011-11-10
2011-11-08
2011-11-07
2011-11-06
2011-11-03
2011-02-23
2011-02-01
2011-01-23
2011-01-22
2010-08-23
2010-07-20
2010-07-14
2010-07-10
2010-07-08
2010-06-28
2010-06-27
2010-06-22
2010-06-19
2009-11-01
2009-10-29
2009-10-28
2009-10-27
2009-10-26
2009-10-25
2009-10-16
2009-10-15
2009-10-14
2009-07-27
2009-06-16
2009-06-15
2009-06-11
More ..

Recent Comments:
2017-04-08
2017-04-01
2017-03-23
2017-03-22
2017-03-17
2017-03-08
2017-03-03
2017-02-19
2017-02-18
2017-02-16
2017-02-12
2017-02-07
More ..

Mon
Tue
Wed
Thu
Fri
Sat
Sun
1
2
3
4
5
6
7
8
9
10
11
12
13
14
15
16
17
18
19
20
21
22
23
24
25
26
27
28
29
30
31