This is my dynamic, frequently updated homepage. This is a NewsLog, also known as a WebLog or Blog.

Everything is evolving, so don't assume too much.

People to watch:
Adina Levin
Andrius Kulikauskas
Britt Blaser
Catherine Austin Fitts
Chris Corrigan
Clay Shirky
Dan Gillmor
Dave Pollard
David Allen
David Weinberger
Dewayne Mikkelson
Dina Mehta
Doc Searls
Elisabet Sahtouris
Elizabeth Lawley
Euan Semple
Florian Brody
Frank Patrick
Gen Kenai
George Dafermos
George Por
Graham Hancock
Greg Elin
Hazel Henderson
Heiner Benking
Inspector Lohman
Jean Houston
Jerry Michalski
Jim McGee
Jim Moore
John Abbe
John Perry Barlow
John Robb
Joi Ito
Jon Husband
Jon Lebkowsky
Jon Udell
Jonathan Peterson
Judith Meskill
Julian Elvé
Julie Solheim
Kevin Marks
Lawrence Lessig
Leif Smith
Letecia Layson
Lilia Efimova
Lisa Rein
Marc Canter
Mark Oeltjenbruns
Mark Pilgrim
Mark Woods
Martin Dugage
Martin Roell
Mary Forest
Matt Mower
Max Sandor
Michael Fagan
Mike Owens
Mikel Maron
Mitch Kapor
Mitch Ratcliffe
Nathalie dArbeloff
Netron
Noam Chomsky
Paul Hughes
Peter Kaminski
Phil Wolff
Philippe Beaudoin
Ray Ozzie
Raymond Powers
Rebecca Blood
Roger Eaton
Roland Tanglao
Ross Mayfield
Scott Lemon
Sebastian Fiedler
Sebastien Paquet
Skip Lancaster
Spike Hall
Steven Johnson
Stuart Henshall
Thomas Burg
Thomas Madsen-Mygdal
Thomas Nicholls
Timothy Wilken
Todd Suomela
Tom Atlee
Tom Munnecke
Tom Tomorrow
Ton Zijlstra
Lionel Bruel
Loic Le Meur
Nancy White
Mark Frazier
Merlin Silk
Robert Paterson
Colby Stuart
Nova Spivack
Dan Brickley
Ariane Kiss
Vanessa Miemis
Bernd Nurnberger
Sites to watch:
Action without borders
BoingBoing
Co-intelligence Institute
Disclosure Project
Disinfopedia
Disinformation
Edge
Electronic Frontier Foundation
Explorers Foundation
Forbidden Science
Free Expression Network
Friendly Favors
FutureHi
Global Ideas Bank
Greater Democracy
HeadMap
Imaginify
Independent Media
Manufacturing Dissent
MetaFilter
Nanodot
Smart Mobs
ThoughtsOnThinking
WorldChanging
YES Magazine
Absara
Collective Intelligence
Collective Web
Do No Harm
Emergent by Design
Escape Velocity
Junto
NotThisBody
Openworld
Rhizome
Space Collective
Webcamorama
French:
Emmanuelle
Manur
Elanceur
Loeil de Mouche
IokanaaN
Blog d'Or
Le Petit Calepin
GeeBlog
Absara
Guillaume Beuvelot
Ming Chau
Serge Levan
Jean Michel Billaut
C'est pas Mécanique
A Quote I like:


We may have all come on different ships, but we are in the same boat now." (M.L.King)

I live in Toulouse, France where the time now is:
06:00


Contacting Me

I get many hundreds of e-mail messages per day and my inbox is becoming increasingly useless to me. So, if you write to me, don't count on an answer unless we know each other really well, or your communication is short and clear. Oh, I'm very friendly and approachable, but I don't have hours enough in my day to read everything.
ffunch -at- worldtrans.org


Unique Readers:


Primarily
Public Domain

Everything I've written here is dedicated to the
Public Domain.



The quotes from other people's writings, and the pictures used might or might not be copyrighted, but are considered fair use. Thus, overall, this weblog could best be described as being:
Primarily Public Domain.
Online Networks:
Ryze.com
Tribe.net
Ecademy
LinkedIn
OpenBC
Transnational Republic
NCN
WebLog Resources:
NCN NewsLogs
Weblogs.com
blo.gs
Technorati
Bloglines
DayPop
Blogdex
PopDex
Blogging Ecosystem
BlogTree
BlogStreet
BlogWise
Syndic8
BlogChalking
GeoBlog
Technorati Profile
---
| | |
| --- | --- |
| Friday, July 13, 2007 | |
---
---
| | |
| --- | --- |
| Thursday, July 12, 2007 | |
---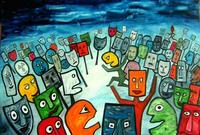 Emergence is one of my most favorite subjects. The one I'd maybe most like to figure out. What makes things emerge? Good stuff. Seemingly out of nothing. Here's a definition by Jeffrey Goldstein, from Wikipedia. It is:
the arising of novel and coherent structures, patterns and properties during the process of self-organization in complex systems.
And some common characteristics:
(1) radical novelty (features not previously observed in systems);
(2) coherence or correlation (meaning integrated wholes that maintain themselves over some period of time);
(3) A global or macro "level" (i.e. there is some property of "wholeness");
(4) it is the product of a dynamical process (it evolves); and
(5) it is "ostensive" - it can be perceived.
Excelleeent! More of that, please.

Monday I was taking part in an online discussion organized by Extreme Democracy, around emergence in relation to politics. Sort of poking around in the thought of whether a better and more direct democracy possibly might emerge from the bottom and up. I can't seem to locate a transcript, so I can't quote all the good points.

One of the starting points was Two ways to emerge, and how to tell the difference between them (pdf) by Steven Johnson.

The two types he's talking about, he calls "Clustering" and "Coping". Those aren't very good choices of words, but it is a good observation that there are different kinds.

Clustering would be where a bunch of somethings get together and do the same thing. Like slime mold. Or a flash mob, or other group phenomena where large numbers of people suddenly get excited about one thing or another, and they all show up at the same time, or they do the same thing.

Coping would be where a bunch of individuals get together, and they don't just do one simple thing, but they form a more complex organization. Like an ant hill. The ants specialize, they take on different roles, they solve problems, they change their behavior if necessary, etc. Without anybody handing out the orders.

It is a lot easier to simply get a large number of people together, or to get them together for one well-defined purpose, than it is to get large numbers of people to self-organize towards solving unknown problems.

Somebody suggested the Howard Dean presidential campaign as an example of a bottom-up emergence of the clustering kind. It was a successful attempt of getting a lot of people together in being excited about one thing, organizing their own local meetings to futher it, etc. But it only worked as long as the main point was being excited about Dean being a leading candidate, and as long as things went well. The moment people started being dissatisfied about something, or they wanted to change direction, there was no vehicle for that, and it fell apart rather quickly. It wasn't the Coping kind of emergence. I don't think it really was emergence at all. That a political candidate gets a lot of grass-roots support might be interesting, but it isn't something that emerged from the grass-roots, or it would have been the assembled crowds that told him what to say, rather than him telling them what to be excited about.

A lot of things that might be given as examples of bottom-up self-organization and emergence probably aren't. Or they're very weak examples. If the date and time of the Superbowl broadcast is announced, and millions of people organize parties around it in front of bigscreen TVs, is that self-organization? Sure, it inspires some self-organization, but it is based on something you're provided from the top down. If some big movie or music star is very popular, and their fans organize fan clubs and websites and online forums, is that self-organization? Yes, it is, on a local level, but it isn't a whole lot of emergence. It is a clustering effect based on stimuli provided from a central source, a movie, an album, a TV show, etc.

If a political candidate hears that through the internet one can easily launch thousands of self-replicating self-organizing local support groups, and forums and meetings, etc, he'll say "great!" Saves a lot of advertising dollars. He'll love it exactly until the point where that network of people starts disagreeing with him, wanting him to do something different from what he had in mind. Which is what would happen if it really were some kind of emerging self-organizing democracy. Candidates with a program don't go well together with real bottom-up democracy. Nobody's really seen such a democracy, so that probably isn't entirely obvious.

Anyway, it of course isn't enough to get a whole lot of people together. That's the clustering thing. If one promotes and organizes it well, and one hits the right nerve, one might get 100s of thousands of angry people to show up at the same time and express themselves. But that doesn't necessarily add up to doing something in any organized fashion. For large numbers of people to do something complex together requires a complex organization. The traditional way of doing that is the top-down way. Somebody's in charge, somebody sets the tone, inspires everybody, sets goals, hands out jobs. They delegate some of their power to others, and so forth. It works, but it creates dumb, inflexible, slow organizations.

We sense that something better is becoming available. The networked world. We're all more and more connected, and the world is moving faster and faster, and obviously it is better if decision making is distributed to those who're most involved with whatever decisions need to be made about. So, many organizations are busy trying to develop more flat structures, more networks, more communities, more self-organization. But if we're talking business or government, there's still somebody in charge who largely decides what one should self-organize around.

The very hard problem is how stuff can actually emerge from the bottom and up, how one can self-organize around what emerges, and how that can scale to a bigger size.

Self-organization amongst people can work great in small groups. If your family is going to have a picnic, you'll probably all figure out how to contribute, without anybody having to be in charge. A few dozen people can maybe do that. But can thousands? Or millions?

Could the world possibly work without anybody being in charge? It is sort of a ridiculous idea to expect that a few people can be in charge of governing the world. Sooner or later it will be not just a little ridiculous, but it will become impossible, as the world moves faster and becomes more complex. Sooner or later the answer has to be that it is some kind of emergent self-organizing direct democracy. It isn't just some idealist notion. The alternatives will stop working sooner or later.

But nobody seems to know how, yet. Hopefully the answer will somehow emerge, and be a delightful surprise.

A couple of other excellent papers on the subject are: Emergent Democracy by Joi Ito, and The Second Superpower Rears Its Beautiful Head by James Moore. Both PDFs.
[ Organization | 2007-07-12 22:53 | | PermaLink ] More >


---
| | |
| --- | --- |
| Friday, July 6, 2007 | |
---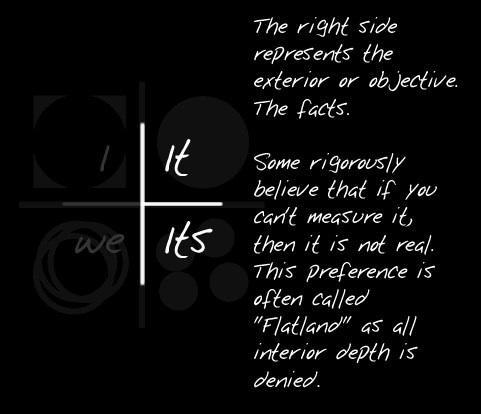 An excellent visualization of integral theory, according to Ken Wilber. (Via Chris Corrigan)
[ Knowledge | 2007-07-06 22:57 | | PermaLink ] More >


---
| | |
| --- | --- |
| Thursday, July 5, 2007 | |
---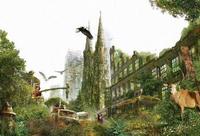 I've read similar things before, and it always puts our civilization a bit in perspective. Science writer Alan Weisman has written a book called "The World without Us", and Scientific American has an article:
According to Weisman, large parts of our physical infrastructure would begin to crumble almost immediately. Without street cleaners and road crews, our grand boulevards and superhighways would start to crack and buckle in a matter of months. Over the following decades many houses and office buildings would collapse, but some ordinary items would resist decay for an extraordinarily long time. Stainless-steel pots, for example, could last for millennia, especially if they were buried in the weed-covered mounds that used to be our kitchens. And certain common plastics might remain intact for hundreds of thousands of years; they would not break down until microbes evolved the ability to consume them.
It is an interview too. Here's a tidbit:
Q: If human beings were to disappear tomorrow, the magnificent skyline of Manhattan would not long survive them. Weisman describes how the concrete jungle of New York City would revert to a real forest.

A: "What would happen to all of our stuff if we weren't here anymore? Could nature wipe out all of our traces? Are there some things that we've made that are indestructible or indelible? Could nature, for example, take New York City back to the forest that was there when Henry Hudson first saw it in 1609?

"I had a fascinating time talking to engineers and maintenance people in New York City about what it takes to hold off nature. I discovered that our huge, imposing, overwhelming infrastructures that seem so monumental and indestructible are actually these fairly fragile concepts that continue to function and exist thanks to a few human beings on whom all of us really depend. The name 'Manhattan' comes from an Indian term referring to hills. It used to be a very hilly island. Of course, the region was eventually flattened to have a grid of streets imposed on it. Around those hills there used to flow about 40 different streams, and there were numerous springs all over Manhattan island. What happened to all that water? There's still just as much rainfall as ever on Manhattan, but the water has now been suppressed. It's underground. Some of it runs through the sewage system, but a sewage system is never as efficient as nature in wicking away water. So there is a lot of groundwater rushing around underneath, trying to get out. Even on a clear, sunny day, the people who keep the subway going have to pump 13 million gallons of water away. Otherwise the tunnels will start to flood."
There's something strangely fascinating about the vision of nature taking over after humanity disappears. An overgrown New York, again having hills and streams, and the Statue of Liberty's torch sticking out of a beach somewhere. I can't quite decide which side I'm on, nature's or ours. But I hope it won't keep being a matter of sides, and that we'll work it out in more harmonious ways.
[ Culture | 2007-07-05 23:30 | | PermaLink ] More >


An article at Nature Physics. One can only see it if one pays, but this is the abstract.
Was the Universe before the Big Bang of classical nature, described well by a smooth space–time? Or was it in a highly fluctuating quantum state? This is one of the most basic questions that we may ask once it is accepted that there was something before the Big Bang. Loop quantum gravity applied to isotropic models has shown that the quantum evolution of a wavefunction extends through the Big Bang. Although a general demonstration is still lacking, this may suggest that calculations, and possibly future indirect observations, may allow us to see the Universe as it was before the Big Bang. Here, we analyse an explicit model with a pre-Big Bang era, indicating limitations that would imply that it is practically impossible to answer some of our questions. Assumptions (or prejudice) will remain necessary for knowing the precise state of the Universe, which cannot be fully justified within science itself.
I suspect I wouldn't understand it, even if I read the whole thing, so that's about enough. But the interesting thought there is the prospect of modeling what happened before the Big Bang. Would be fun if we had some new time coordinates, just as A.D. and B.C., so how about B.B.B. for Before Big Bang, and A.B.B. for After Big Bang, of course. Big Bada Boom.
[ Science | 2007-07-05 23:40 | | PermaLink ] More >


Matt Mower:
Joel Spolksy has a good article on management books in which he quotes Michael Lopp:

The disagreement reminded me there are two distinct personalities when it comes to devising solutions to problems: Incrementalists and Completionists.

Incrementalists are realists. They have a pretty good idea of what is achievable given a problem to solve, a product to ship. They're intimately aware of how many resources are available, where the political landscape is at any given moment, and they know who knows what. They tend to know all the secrets and they like to be recognized for that fact.

Completionists are dreamers. They have a very good idea of how to solve a given problem and that answer is SOLVE IT RIGHT. Their mantra is, "If you're going to spend the time to solve a problem, solve it in a manner that you aren't going to be solving it AGAIN in three months."
Hm, I guess that in that setting, I'd be a Competionist Completionist too. I'd often be a bit envious at people who are very pragmatic and who do things that work, from what is available, that can get out the door quickly, that end up succeeding, despite not being perfect. I'll tend towards trying to make the perfect thing, and then not getting around to getting it out the door.

Oh, I'm probably doing incremental stuff in some areas, but it is in the business context where I'm envious. To succeed in business, you need to produce something that is useful to somebody, which they'll pay for. Doesn't really matter if it is the ultimate way of solving a problem. It just has to be an acceptable and attractive way of doing it, which works for the target audience.
[ Knowledge | 2007-07-05 23:50 | | PermaLink ] More >


---
| | |
| --- | --- |
| Wednesday, July 4, 2007 | |
---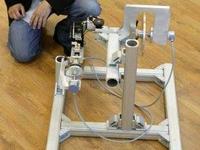 A lot of people have been following these guys for a while. The most promising proposed free energy technology so far. The most likely to actually be real, that is. They have an announcement today:
London, 4th July 2007. Steorn, an Irish technology development company, will publicly demonstrate a real-life application of its Orbo free energy technology for the first time. The demonstration will take place in the Kinetica Museum gallery, London UK on Wednesday 4th July. People around the world will be able to watch the exhibit via a live web stream.

The real-time streaming of the Orbo free energy technology demonstration can be accessed via steorn.com/orbo/demo from 6pm Eastern Time (ET) today. People logging onto the link can select different camera angles so they can see the exhibit from various positions. The Kinetica Museum exhibit will thereafter be open to members of the public from Thursday July 5th until Friday July 13th.

Steorn's Orbo technology is based on the interaction of magnetic fields and allows the production of clean, free and constant energy. The exhibit on display will demonstrate work being done by the spinning of a clear polycarbonate wheel with no recourse to external energy. Orbo technology is fully scalable and can be applied to virtually all devices requiring energy, from cellular phones to cars.

On 18th August 2006, Steorn placed an advertisement in The Economist to attract the attention of the world's leading scientists working in the field of experimental physics. The advertisement issued a challenge to the world's scientific community to step forward and prove its claims wrong.

Several thousand scientists stepped forward to take the challenge, but only 22 were appointed to test Steorn's claims. The review process began in January 2007 and is still ongoing. Steorn will publish the results of the process following its completion.
The demonstration doesn't seem to be live yet. Thursday, they're saying now.

Anybody wants to bet whether their technology will work or not? I'm betting it will.
[ Technology | 2007-07-04 23:14 | | PermaLink ] More >


Via Frank Patrick:
"If a man is offered a fact which goes against his instincts, he will scrutinize it closely, and unless the evidence is overwhelming, he will refuse to believe it. If, on the other hand, he is offered something which affords a reason for acting in accordance to his instincts, he will accept it even on the slightest evidence. The origin of myths is explained in this way."
-- Bertrand Russell, British author, mathematician, & philosopher (1872 - 1970)
Yeah. But what is instinct?

If you break it down into perceptions, most people ultimately make big decisions not based on logic, but based on that it feels right. Very often a physical feeling around your stomach area. The "gut feeling", you know.

There are always more perceptions involved. Maybe it *looks* a certain way to you, in your mind's eye, and it *sounds* about right in your mind's ear. And, yes, some kind of feeling that seals the deal, that "this is right!"

Most people will be likely to deny this, and will insist that they make their decisions based on a careful study and analysis of available facts, which they logically add up into a decision. Oh, nothing wrong with careful analysis and logical reasoning, but even if you're very good at that, like if you're a scientist, you end up deciding whether it is right or not, and that decision is based on some kind of feeling you have, however much you deny it. Some people merely make up the reasoning after they've had that feeling, in order to defend the "logic" of it. Others will try to go through some kind of routine before, to show that they seriously worked on the decision process. But it still ends up being some kind of feeling of it being "right" or "wrong".

However, there are several kinds of what we could call instincts.

In my experience, everybody has a built in sensor for their personal right or wrong, which almost instantly will give the answer, based on some kind of subconscious processing of all available facts, or based on something more esoteric, and this mechanism will tend towards never being wrong. That's what we maybe could call intuition.

But at the same time, most people are easy to fool, in a long list of different ways. You can be led to believe that something is something else than what it is. You can be led to see something as normal, even though it isn't. Stage magic, hypnosis, advertising, politics - there are many places you'll find such tricks used. People will manipulate you into choosing a certain reality, because it looks, feels or sounds right, even though it isn't. I suppose that's playing into instincts too. But it isn't intuition.

Recognizing the difference between those different kinds of instincts can be hard. A lot of people probably know no such difference. If it feels right, it is right, whether it is the call of your destiny, or a commercial on TV.

Anyway, the question is how we maybe might train ourselves into being fooled less, by information or by perceptions. How can evidence and instinct get more into sync? I think that starts with what Alfred Korzybski called "Consciousness of Abstraction". That you're aware of the existence of the various layers and filters through which you deal with "reality", and that you have an idea of their pros and cons, strenghts and weaknesses. If you try to deny that any of those layers exist, you'll make stupid mistakes. The more conscious you are of your processes of abstracting reality into ideas, and of concretizing ideas into reality, the less likely you are to be fooled.
[ Information | 2007-07-04 23:59 | | PermaLink ] More >


---
| | |
| --- | --- |
| Tuesday, July 3, 2007 | |
---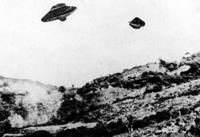 Or he writes, at least. Slashdot:
"The army's explanation of weather balloons in the Roswell, New Mexico incident 60 years ago has been dealt a serious public relations blow. Late Army Lt. Walter Haut had signed a sealed affidavit prior to his death last year asserting that he had witnessed the wreckage of an egg-shaped craft and its extraterrestrial crew while working at the Roswell Army Air Field. An article at News.com.au reviews how Haut had worked as public relations officer for the Roswell base and was involved in the original weather balloon explanation of events at the time. This recent evidence would seem to confirm speculation that egg-shaped saucers are notoriously difficult to fly safely at low altitude."
news.com.au:
Lieutenant Walter Haut was the public relations officer at the base in 1947 and was the man who issued the original and subsequent press releases after the crash on the orders of the base commander, Colonel William Blanchard.

Haut died last year but left a sworn affidavit to be opened only after his death.

Last week, the text was released and asserts that the weather balloon claim was a cover story and that the real object had been recovered by the military and stored in a hangar.

He described seeing not just the craft, but alien bodies.

He wasn't the first Roswell witness to talk about alien bodies.

Local undertaker Glenn Dennis had long claimed that he was contacted by authorities at Roswell shortly after the crash and asked to provide a number of child-sized coffins.

When he arrived at the base, he was apparently told by a nurse (who later disappeared) that a UFO had crashed and that small humanoid extraterrestrials had been recovered.

But Haut is the only one of the original participants to claim to have seen alien bodies.

Haut's affidavit talks about a high-level meeting he attended with base commander Col William Blanchard and the Commander of the Eighth Army Air Force, General Roger Ramey.

Haut states that at this meeting, pieces of wreckage were handed around for participants to touch, with nobody able to identify the material.

He says the press release was issued because locals were already aware of the crash site, but in fact there had been a second crash site, where more debris from the craft had fallen.

The plan was that an announcement acknowledging the first site, which had been discovered by a farmer, would divert attention from the second and more important location.

Haut also spoke about a clean-up operation, where for months afterwards military personnel scoured both crash sites searching for all remaining pieces of debris, removing them and erasing all signs that anything unusual had occurred.

This ties in with claims made by locals that debris collected as souvenirs was seized by the military.

Haut then tells how Colonel Blanchard took him to "Building 84" - one of the hangars at Roswell - and showed him the craft itself.

He describes a metallic egg-shaped object around 3.6m-4.5m in length and around 1.8m wide.

He said he saw no windows, wings, tail, landing gear or any other feature.
Ah, everybody knows that's a weather balloon. Because that's what the government told us it was, after they double-checked it, and of course they wouldn't lie. Conform, Consume, Obey!
[ News | 2007-07-03 01:22 | | PermaLink ] More >


"The higher the degree of strangeness in an event, the greater its information yield is likely to be."
- French cyberneticist, Joel de Rosnay
Yep, strange is good. It often means you're about to learn something. You don't learn much from the same old, same old. You need to be woken up a little bit, or a lot, to truly learn something new. Mystery, puzzlement, wonder, awe - they're great drivers.
[ Information | 2007-07-03 01:24 | | PermaLink ] More >


---
| | |
| --- | --- |
| Monday, July 2, 2007 | |
---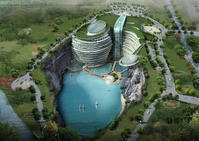 Inhabitat:
Near Shanghai, the Songjiang district has become a popular weekend destination for many tourists with its natural beauty and sprawling landscapes. And now the Songjiang Hotel might just become the newest and greenest attraction. While it may look a bit sci-fi, this hotel was designed for the real (green) world, with many sustainable features in mind.

This proposed hotel was designed by the firm Atkins, the same firm which has brought us buildings such as Tianjin's Pile of Boxes and the Bahrain World Trade Center. The 400-bed resort will be located in a 100-meter-deep quarry located in the province and will contain restaurants, cafes, sport facilities, and even underwater public areas and guestrooms. Water will play an important part in the design, featured in many areas around the hotel. Waterfalls, underwater aquariums, and green areas will be integrated into the design to match the existing facing of the quarry.

The reuse of an already existing site means that the environmental impact will hopefully be smaller. The entire hotel is to be covered in a green roof, while the building will use geothermal energy for it's electrical supply and heating. The quarry will also provide a good source of heat control and shelter from the environment.

The design of the building is meant to reflect the natural landscape of the quarry. "We drew our inspiration from the quarry setting itself, adopting the image of a green hill cascading down the natural rock face as a series of terraced landscaped hanging gardens." said Martin Jochman. Needless to say, with such a cool looking site, you'd expect to get a design which will take advantages of it's very extreme location, and you'd be correct. The hotel, will feature amongst other things: bungee jumping.

[ Culture | 2007-07-02 21:55 | | PermaLink ] More >


A statement from an anti-Web2.0 piece by Michael Gorman, former head of the American Library Association.
"Human beings learn, essentially, in only two ways. They learn from experience—the oldest and earliest type of learning—and they learn from people who know more than they do."
That can't go unchallenged, of course, so here by Tim Spalding of LibraryThing, "Libraries as Conversations":
There is something attractive about this conception. Some people have experiences, and they pass it on, directly or through writing. Knowledge happens. We get it one way or the other.

But this has never been quite right. Learning and knowledge, at least important learning and knowledge, are a conversation.
And, about conversations:
Conversations work because, at their best, they know more and produce more than their members. They work because the knowledge is in the conversation. It happens in the very interplay of ideas—asserting, contesting, extending, simplifying and complexifying the dizzying whirl of fact and opinion, creative and synthetic, smart and dumb, right and wrong, from this angle and that. Literature works like this too, but can be even more meaningless without "conversational" context—genre, alusion and immitation and so forth.
Mention of this is via David Weinberger.

Yes, of course conversation is part of it. Maybe we learn more and better that way than simply by individual experience and listening to people who're smarter than us. But it isn't just conversation, it is interaction. We get something out of interacting with others and with situations, and learning emerges from what happens. Incidentally, the next item in my blog aggregator, from Nancy White, had this item, quoted from a thread about knowledge sharing:
In Bahasa Indonesia people say 'socialisasi' which means to make people aware of something through interaction - I've always wished there was an English equivalent!"
It might be the traditional view that knowledge and learning is about transferring abstract facts. But conversation and interaction in general is likely to plug into something deeper and wider than mere facts. People don't learn just because you give them a lot of facts.
[ Knowledge | 2007-07-02 22:13 | | PermaLink ] More >


---
| | |
| --- | --- |
| Thursday, June 28, 2007 | |
---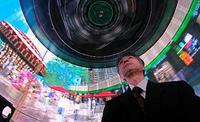 Pink Tentacle
A research team led by Susumu Tachi from the University of Tokyo has developed a rotating panoramic display that immerses viewers in a 3D video environment. The Telexistence Wide-angle Immersive STEReoscope, or TWISTER, is the world's first full-color 360-degree 3D display that does not require viewers to wear special glasses, says professor Tachi, who has spent over 10 years researching and developing the device.

Inside the 1.2 meter (4 ft) tall, 2 meter (6.5 ft) wide cylindrical display are 50,000 LEDs arranged in columns. As the display rotates around the observer's head at a speed of 1.6 revolutions per second, these specially arranged LED columns show a slightly different image to each of the observer's eyes, thus creating the illusion of a 3D image. In other words, TWISTER tricks the eye by exploiting what is known as "binocular parallax" — the apparent difference in position of an object as seen separately by the left eye and the right eye.
Cool, I want one. Quality doesn't look great, and it isn't live, but it sounds promising.
[ Technology | 2007-06-28 22:03 | 0 comments | PermaLink ]


Rolling Stone has the first of a two part series declaring the music industry dead, by suicide:
So who killed the record industry as we knew it? "The record companies have created this situation themselves," says Simon Wright, CEO of Virgin Entertainment Group, which operates Virgin Megastores. While there are factors outside of the labels' control -- from the rise of the Internet to the popularity of video games and DVDs -- many in the industry see the last seven years as a series of botched opportunities. And among the biggest, they say, was the labels' failure to address online piracy at the beginning by making peace with the first file-sharing service, Napster. "They left billions and billions of dollars on the table by suing Napster -- that was the moment that the labels killed themselves," says Jeff Kwatinetz, CEO of management company the Firm. "The record business had an unbelievable opportunity there. They were all using the same service. It was as if everybody was listening to the same radio station. Then Napster shut down, and all those 30 or 40 million people went to other [file-sharing services]."

It all could have been different: Seven years ago, the music industry's top executives gathered for secret talks with Napster CEO Hank Barry. At a July 15th, 2000, meeting, the execs -- including the CEO of Universal's parent company, Edgar Bronfman Jr.; Sony Corp. head Nobuyuki Idei; and Bertelsmann chief Thomas Middelhof -- sat in a hotel in Sun Valley, Idaho, with Barry and told him that they wanted to strike licensing deals with Napster. "Mr. Idei started the meeting," recalls Barry, now a director in the law firm Howard Rice. "He was talking about how Napster was something the customers wanted."
(Via BoingBoing).

Yeah, one can't really imagine how they could possibly have acted more stupidly. Thousand times worse than the guy who invented new Coke.
[ Culture | 2007-06-28 22:21 | | PermaLink ] More >


Wikipedia:
The Dunning-Kruger effect is the phenomenon whereby people who have little knowledge systematically think that they know more than others who have much more knowledge.

The phenomenon was demonstrated in a series of experiments performed by Justin Kruger and David Dunning, then both of Cornell University. Their results were published in the Journal of Personality and Social Psychology in December 1999.

Kruger and Dunning noted a number of previous studies which tend to suggest that in skills as diverse as reading comprehension, operating a motor vehicle, and playing chess or tennis, that "ignorance more frequently begets confidence than does knowledge" (as Charles Darwin put it). They hypothesized that with a typical skill which humans may possess in greater or lesser degree,

1. incompetent individuals tend to overestimate their own level of skill,
2. incompetent individuals fail to recognize genuine skill in others,
3. incompetent individuals fail to recognize the extremity of their inadequacy,
4. if they can be trained to substantially improve their own skill level, these individuals can recognize and acknowledge their own previous lack
I guess I feel a little better about feeling ignorant and incompentent sometimes.

Oh, and here's a quote from a very wise man:
"I have approximate answers and possible beliefs and different degrees of certainty about different things, but I'm not absolutely sure of anything..." -- Richard Feynman

[ Knowledge | 2007-06-28 22:28 | | PermaLink ] More >


---
| | |
| --- | --- |
| Wednesday, June 27, 2007 | |
---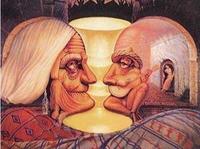 Wikipedia:
Naïve realism is a common sense theory of perception. Most people, until they start reflecting philosophically, are naïve realists. This theory is also known as "direct realism" or "common sense realism".

Naïve realism claims that the world is pretty much as common sense would have it. All objects are composed of matter, they occupy space, and have properties such as size, shape, texture, smell, taste and colour. These properties are usually perceived correctly. So, when we look at and touch things we see and feel those things directly, and so perceive them as they really are. Objects continue to obey the laws of physics and retain all their properties whether or not there is anyone present to observe them doing so.

Naïve realism is distinct from scientific realism. Scientific realism says the universe really contains just those properties which feature in a scientific description of it, and so does not contain properties like colour per se, but merely objects that reflect certain wavelengths owing to their microscopic surface texture. The naïve realist, on the other hand, would say that objects really do possess the colours we perceive them to have.
Thanks, Anandavala for mentioning it in your article The Scientific Case Against Materialism. The Wikipedia entry tries to imply that it is something that kind of doesn't apply to scientists, which of course isn't quite so. Actually the odd statement there that "the universe really contains just those properties which feature in a scientific description of it" hints at where scientific thinking can get off track, but maybe there's another name for that. You know, the idea that reality is what is found in sufficiently agreed-upon scientific theories, rather than what it really is, beyond any kind of theory.

You'll also find an oddly large percentage of those people who claim science as the foundation of their thinking who mostly argue for what science used to be. You know, aristotelean and newtonian kind of science. Which involves a certain kind of naïve realism, at least in comparison with more modern stuff. I mean, that the universe consists of seperate objects that have properties like mass and that are subject to gravity. Oh, that's how it appears on a superficial and tangible level, and that's practical for building houses, and satellites, and for maintaining your household in a sane way. But in terms of how it really is, it seems to me that science has been beyond that for a century or so. But a lot of us haven't really internalized stuff like quantum physics and even relativity theory, because it is odd and counter-intuitive. Because it doesn't fit with our naïve kind of observation of what is there. So we easily default to arguing that all the odd stuff is impossible, part of some kind of organized scam, or at best an unproven theory.

OK, I often complain about this kind of thing. It is one of my pet issues. And "Science and Sanity" is still on my list of all time most important books written. It is important not to forget that your simplified idea about reality is not reality, no matter who agrees with you. The foundation of sanity is to stay aware of the difference between perceptions of stuff and the real stuff.

Here's another article that Anandavala links to:
The first stop on our tour is a place called "naive realism." Naive realism is a way of looking at the world. Ways of looking at the world are sometimes dressed up with the word "philosophy," but I won't split a hair's difference.

True naive realists would never sum up or analyze their views, because they do not consider them views but the way things obviously are. However, I will do my best to illuminate them:

"I, the naive realist, am a human being. There is this one physical world, the space where everything exists and the time in which everything happens. There are many things in this physical world, each largely separate from the other and persisting over a span of time. Time is divided into 'now,' which is real and experienced, 'the past,' which once existed but now does not, and 'the future,' which does not exist yet but will.

"My senses give me direct knowledge of reality. If I see a chair, it is because there is a chair physically where and when I see it. There are exceptions, like when I am dreaming or watching a movie, but these are rare and obviously not real.

"I can know things through my senses, through thinking about things, and through communication with other people. Other people's beliefs may be correct or not, but beliefs of people I respect, and beliefs held commonly by most people in my society, are usually true."

Naive realism sounds reasonable enough, but it can lead to science, which as we shall see, contradicts naive realism on nearly every account.
I hope so, but that's where I'm skeptical. Real science, yeah. But there's the widespread belief system, sometimes called materialism, which tends to trump science if one doesn't watch it. I.e. that the world is fundamentally the world of physical objects we see, and nothing that isn't material could possibly exist, and anything else that appears to exist can only come from matter, and no other explanation is possible and even worth considering. You know, naïve materialism. Accepting things without considering the alternatives and without verification.
[ Science | 2007-06-27 00:58 | | PermaLink ] More >


---
| | |
| --- | --- |
| Monday, June 25, 2007 | |
---
What a splendid idea. Read at 43 Folders about The 4-hour Work Week by Tim Ferriss. So, this is first what Merlin Mann says at 43 Folders:
A lot of my friends have been reading The 4-Hour Workweek by Tim Ferriss, and, to varying degrees, several of them have started trying on some of his more audacious ideas, such as checking email once a week, finding an "income muse," going on an extreme information diet — a few people I know are considering outsourcing pieces of their personal and professional lives.

For reasons I can't fully explain — and will, for now, just write down to Tim's engaging style — I also found this outsourcing idea weirdly fascinating. You identify the tedious tasks in your life that don't represent the best use of your time, and assign them to an overseas worker who can complete them for a few bucks an hour. This apparently can be virtually any kind of mundane task, from booking a dinner reservation to doing research on a company to — heck, why not? — answering your email...
And he asks for examples from people who've tried things like that. Does it work, does it not work?

Read an excerpt of the book from Tim Ferriss.

Again, I find the idea very intriguing. Not that I haven't thought of it, but there's a certain jump to actually doing it, and making it work. Obviously there's a potential there. That is, if you have too much to do, particularly tasks you find boring or difficult, which are expensive for you to do in terms of time, but which aren't part of your core activity or your mission in life. Others who maybe are better at it, or who get paid at a different rate, might of course be able to do a better job, and more gets done, and everybody's happy. At least in principle.

I have tried outsourcing where it didn't work so well. I.e. where communication difficulties, having to explain everything too much, and different work rhythms end up making it not give any benefit. There's an eastern European fellow who still writes me and says thank you once in a while, because he was able to get married and start a family and get a nice place to live for what I paid him, which was relatively little for me at the time, but which kept him working full time. But it didn't really work out for me. The idea was that I would just pass things on to him that I needed to do myself, and I always ended up losing patience and finding a faster way of doing it myself before he was done.

At the same time I see it apparently working in places like rent-a-coder. It is not personal assistants you get there, but anything related to programming, graphics, translation, project management, etc. I do notice people who piece together whole projects there, for very little money, but with people who're perfectly happy with the work. If you do it well, you can get one person to develop a program, another to do the website, with graphics from a third person, a fourth writing the content, a fifth testing it, and a sixth being the project manager, etc. And it wouldn't be unrealistic that a whole project might get off the ground for $1-2000.

But it appeals even more to me on a personal level. I tend to either focus deeply on one project, forgetting everything else, or I scatter myself in many directions, pursuing interesting ideas. And I'm not very good at the stuff in the middle, like staying organized and remembering to bill people and ask others for things I need from them etc. I have very much enjoyed times where I worked with others who enjoyed doing some of those things, who were perfectly happy answering the phone for me, coordinating projects with customers, etc. Because I tend to hate doing that myself. So the idea of a personal assistant makes me salivate.
[ Organization | 2007-06-25 23:45 | | PermaLink ] More >




<< Newer stories Page: 1 ... 4 5 6 7 8 ... 97 Older stories >>



This is a collage of things that catch my eye, things that need to be said, and stuff I really care about


TRUTH
BEAUTY
FREEDOM
LOVE
TECHNOLOGY



Previous stories
2011-11-08
2011-11-07
2011-11-06
2011-11-03
2011-02-23
2011-02-01
2011-01-23
2011-01-22
2010-08-23
2010-07-20
2010-07-14
2010-07-10
2010-07-08
2010-06-28
2010-06-27
2010-06-22
2010-06-19
2009-11-01
2009-10-29
2009-10-28
2009-10-27
2009-10-26
2009-10-25
2009-10-16
2009-10-15
2009-10-14
2009-07-27
2009-06-16
2009-06-15
2009-06-11
2009-06-07
2009-06-05
2008-10-14
2008-07-11
2008-07-06
2008-07-05
2008-06-29
More ..

Recent Comments:
2017-04-08
2017-04-01
2017-03-23
2017-03-22
2017-03-17
2017-03-08
2017-03-03
2017-02-19
2017-02-18
2017-02-16
2017-02-12
2017-02-07
More ..

Mon
Tue
Wed
Thu
Fri
Sat
Sun
1
2
3
4
5
6
7
8
9
10
11
12
13
14
15
16
17
18
19
20
21
22
23
24
25
26
27
28
29
30